Dunfermline go down after failing to adapt to the SPL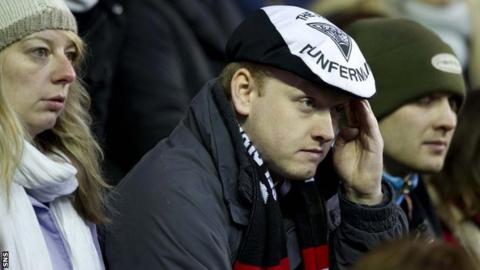 Dunfermline fans will be mourning their side's relegation to the First Division, but nobody is hurting more than Jim Leishman.
The Pars were consigned to the drop after a 4-0 thumping at the hands of Hibernian on Monday.
Leishman, currently director of football at East End Park, has seen it all during an association with the club that dates back more than 40 years, but the pain of relegation never gets any easier.
"It's always sad, especially when you've worked so hard a year ago to get promotion down at Greenock Morton. There is one team that gets relegated from the Premier League and unfortunately we were that team," he said.
The harsh reality is that Dunfermline never looked at home in the Scottish Premier League. Had it not been for Hibs' desperate league form this season, their fate would have been sealed long before now.
Dunfermline's 37 league fixtures have yielded only five wins and Leishman says their dismal home form - they have recorded just one home victory in the league - had a huge bearing in their downfall.
"We lost too many games and a big factor was we didn't win at home," he said.
"That was something that grew in pressure. The players will look back and see that that was one of the reasons we got relegated.
"You've got to have a strong mental attitude in any sport you play, whether it's football, golf or athletics. If you're not mentally strong, you're not going to have that belief that you're going to win games."
With life in the top flight soon to be a thing of the past, the club will now have to evaluate how they can operate back in the First Division - on and off the park.
"As far as the board of directors are concerned, we'll sit down and give the manager a budget for next year," said Leishman.
"The manager will decide which players depart. But there'll be a lot of hard decisions getting made, a lot of things that we've got to be careful about. The First Division doesn't generate a huge amount of money.
"On the plus side, we've got Raith Rovers, Falkirk, Dundee, Cowdenbeath, which we regard as local derbies. There will be a lot of fans coming, it will generate a lot of interest and we've got to be ready for that.
"We'll be the top dogs next year, the favourites. We'll be the ones who everyone wants to beat, so we've got to get our mental attitude right to handle the top-dog scenario."
Leishman, who played for the Pars between 1970 and 1977 and has enjoyed two spells as manager at the club, sees no reason why Dunfermline cannot bounce straight back and gain promotion next season.
The last time they were relegated from the top flight in 2007, it took four years to get back to the SPL. So are they in a better position to come straight back up this time around?
"Time will tell if we're equipped to do that," added Leishman, who twice led the Pars to promotion to Scotland's top flight.
"We'll certainly have one of the biggest budgets in the First Division and hopefully a lot of the best players - what more do you want?"
What the Dunfermline faithful want is a speedy return to the SPL and, hopefully, a longer stay next time around.