Bill Miller withdraws bid for Rangers
Last updated on .From the section Football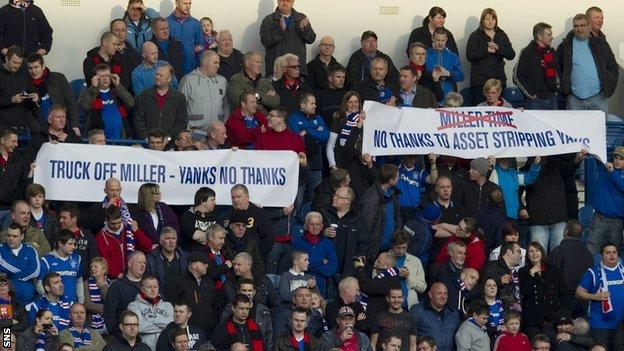 Bill Miller has withdrawn his bid for Rangers, blaming fan opposition and fresh information that revealed the seriousness of the club's finances.
But administrator Duff & Phelps says three other bids are on the table - one from the UK and two from overseas.
American trucking tycoon Miller had been named preferred bidder last week.
But he has now said that "preliminary information" given by Duff & Phelps was "more optimistic than reality" and he is no longer pursuing his offer.
"As soon as I was announced as preferred bidder for Rangers, my team began to press ahead with our due diligence," said Miller in a statement.
"Until then, information had been limited to what was made available in the internet data room and questions addressed to the administrators and their staff.
"In addition, I had preliminary discussions with the Scottish footballing authorities and limited discussions with Ally McCoist.
"Upon being named preferred bidder, discussions with Rangers staff started and discussions with all interested parties intensified.
"By late Monday night, it became clear to me that preliminary information, discussions and analysis were, unfortunately, more optimistic than reality."
The American had yet to visit Scotland following his bid for the club but turned in his statement to the reaction from some Rangers fans, who displayed anti-Miller banners at last week's game as McCoist's side beat Dundee United.
"Having no intention of negatively affecting the potential outcome of the club's future, and after hearing the message from Rangers supporters and fans loud and clear ('Yank go home!'), I notified the administrators today that I have withdrawn my bid for Rangers and will not be moving forward," he said.
Jon Pritchett, chief executive of Club 9 Sports, had been advising Miller and revealed that the American businessman had received "vitriolic" emails from fans.
"There are big legacy costs as a result of doing things poorly over a number of years, structural and commercial problems," Pritchett explained.
"It would be a hard time turning things around and implementing structural changes and discipline. Such changes would have made Bill very unpopular given the way things have operated.
"Even after Bill announced his austerity measures last week there were people within the club asking how much money was available to be spent. It would take a fairly large amount of money to keep it from dying.
"The second factor is some of the contingency liabilities: are the players coming or going? What are the final decisions with regard to the SFA and SPL and sanctions?
"The third factor was more about the environment. It was a fairly inhospitable environment for Bill.
"He was getting hundreds of emails every day - vitriol and expletive-filled.
"Bill felt like it was a pretty unwelcoming environment. He would have had to do a lot of things that would make him less popular."
Bids from Sale Sharks owner Brian Kennedy, the Blue Knights led by former Rangers director Paul Murray, a Far East consortium led by Singapore-based businessman Bill Ng and a mystery German consortium had already been discounted by Duff & Phelps.
Kennedy, who had backed the Blue Knights then Miller after his own offer was rejected, held talks with Craig Whyte over the weekend about a transfer of the owner's shares to smooth any proposed takeover.
However, it is believed that neither Kennedy nor the Blue Knights are among the other bidders to have now come forward, one of which is thought to be worth close to the £11.2m being offered by Miller.
Joint administrator David Whitehouse said: "Since Mr Miller was announced as preferred bidder on Thursday of last week, it is regrettable that more progress could not be made to further the sale of the cub.
"We have been informed by his advisors that there were a number of issues with which he felt uncomfortable, including legacy contracts, the limitation of potential revenue streams and the expectation of required investment.
"As in any company takeover, the selection of a preferred bidder does not guarantee the completion of the sale.
"In this case, with time and money for Rangers running out quickly, it was essential to move the process forward with urgency.
"Mr Miller's bid was deliverable to creditors and was the only deliverable bid on the table at that time. We had no other unconditional bid.
"Given the fact that Mr Miller did not enter into an exclusivity agreement, we informed all other known potential bidders at the time the door was not closed.
"As a consequence of Mr Miller's bid being accepted, three other bidders have come forward to express their interest in buying the club and these offers are being evaluated with the utmost urgency.
"There is every opportunity for these bidders to now complete the purchase of the club prior to the end of the season."