Euro 2004: When Otto Rehhagel's Greece were crowned kings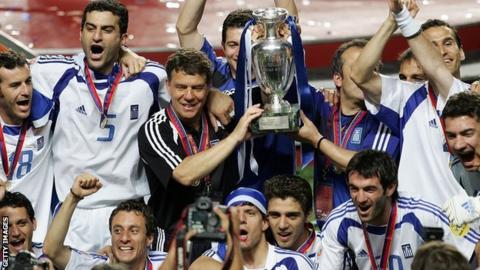 Wayne Rooney's emergence as a world star may have captured England's imagination at Euro 2004 - but Lisbon was transformed into the court of "King Otto".
If Denmark's players coming off the beach as late entrants to win Euro 92 was a surprise, then a Greece side that had never won a match at a major tournament cutting a swathe through the superpowers to prevail in Portugal registered an even greater shock.
And at the head of it all, as the arch-strategist plotting this most unlikely course to success, was coach Otto Rehhagel, now 73 and a German guaranteed his place among the Gods of Greeks sport forever.
Rehhagel's long career in the Bundesliga had shaped the philosophy of a Greek team that saw qualification for Euro 2004 as a triumph in itself even before that glorious Portuguese summer unfolded.
The purists sniffed that if this Greek team turned up to play in your back garden you would be knocked down in the rush to close the curtains. This mattered not - particularly to Rehhagel and his players - as the fierce defensive discipline, supreme fitness levels, organisation and a self-belief that grew from the moment they beat hosts Portugal 2-1 in their opening game took them to one of their country's greatest sporting moments.
England's Portuguese odyssey ended with a quarter-final defeat on penalties to Portugal after a tense 2-2 draw, the task of Sven-Goran Eriksson's team made even tougher by the loss of their 18-year-old talisman Rooney, then still an Everton striker, with a broken foot midway through the first half.
On the field, Rooney was the shining star of Euro 2004 but the coaching honours went to Rehhagel. A stern figure who brooked no argument on or off the pitch, he delivered a masterclass in how to marshal limited resources.
After emerging from their group by following up their win over Portugal with a 1-1 draw against Spain and a 2-1 defeat by Russia, the surprises really started when defending champions France - complete with Zinedine Zidane and Thierry Henry - were beaten in the last eight by Angelos Charisteas's powerful second-half header.
It was a performance that was a template for Greek glory. Frustrate, lead, defend with discipline and win.
The highly fancied Czech Republic suffered a similar fate in the semi-final when they lost to Traianos Dellas's "silver goal" in extra time in Porto.
Even then, the legions following the host nation and 63,000 inside Lisbon's Stadium of Light believed Sunday, 4 July was to be their own day of destiny. Not a bit of it.
Cristiano Ronaldo, Luis Figo and company went the same way as Greece's previous opponents as Charisteas headed the winner after 57 minutes. And even the most frantic finale in front of passionate home support could not break the resistance in-built by Rehhagel.
In keeping with the tournament, Portugal's fans were wonderfully gracious in defeat. There was not a trace of bitterness or ill-feeling as they accepted their status as victims of an astonishing story and accepted their fate with great dignity.
It was a tale of a triumph for the underdog, for Greece as a country and their players. Their captain was a Leicester City reject, Theo Zagorakis, who seemed almost in a dream as he lifted the trophy and was later named player of Euro 2004.
"We proved once again that the Greek soul is, and always will be, our strength," he said. "It is the greatest gift God ever gave us. We have given the Greek people more than joy with the moment. It will be our pride forever."
And in the scorers of those key goals, Dellas and Charisteas, they had players who were unable to command regular football at club level with AS Roma and Werder Bremen. The manner in which they were inspired by Rehhagel was another of the veteran's triumphs.
Holding it all together was goalkeeper and George Clooney lookalike Antonios Nikopolidis, a reliable last line on the rare occasions the Greek defence was breached.
Charisteas announced at the Stadium of Light: "I call on Greeks everywhere to rejoice and celebrate."
And his countrymen took him at his word as the team returned to be greeted by 100,000 supporters inside the Panathenaic Stadium in Athens, home of the first modern Olympics in 1896.
Tens of thousands greeted Rehhagel and his heroes as they made the 25-mile journey from the airport to the arena after the players taxied through an archway of water formed by fire engines.
At the head of it all was "The King" - greeted by chants of "God is German" for the footballing gift that had been bestowed on their country.
The final word must go to Rehhagel, who said: "This was an unusual achievement for Greek football and especially for European football. The opponent was technically better than us but we took advantage of our chances. We should have made it 2-0.
"The Greeks have made football history. It's a sensation. There are always surprises. Remember North Korea beat Italy in the 1966 World Cup in England. This time we are the surprise."
And it remains one of the biggest surprises in football history.