Blackburn Rovers official wanted Steve Kean dismissed
Last updated on .From the section Football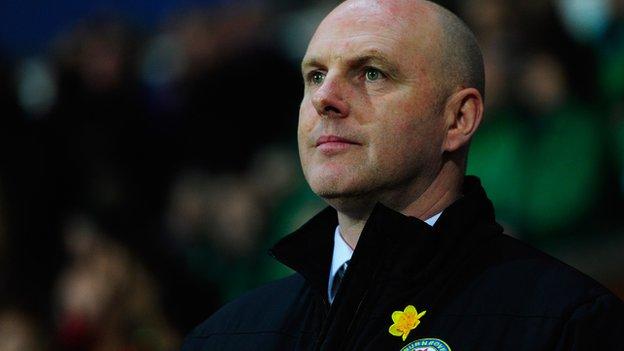 Blackburn Rovers deputy chief executive Paul Hunt wanted manager Steve Kean sacked in December, it has emerged.
"I have supported him [Kean] from the start and have been desperate for him to do well," Hunt reportedly wrote.
"However, I am now of the opinion it isn't working and he is ready to go."
Rovers have so far made no comment on the 2,500-word letter sent by Hunt but Kean is due to face the media on Wednesday ahead of the club's final game of the Premier League season on Sunday.
Kean has already said he is determined to stay on as manager.
Blackburn, who were taken over by the Venky's group in November 2010, were relegated after Monday's defeat by Wigan.
However, Hunt had warned of the club's precarious position prior to Christmas.
"He [Kean] has lost the crowd and as a result of this evening's game [against Bolton] has lost the dressing room as well - the players no longer want to play for him," added Hunt.
"It is a shame and disappointing but we must act now to save the club. The board should be asked their opinion on who should be the new manager."
Hunt insisted he had the best interests of the club at heart and also detailed worries about the club's finances.
"I have been your senior officer at the club for six months now and I feel that I must now write to you to ask you to make some significant changes to save the club, perhaps from relegation but also perhaps from administration," said Hunt.
Rovers supporters have been vocal in their anger against the Venky's and Kean, with Hunt also drawing attention to disaffected fans.
"We are losing fans/customers at an alarming rate," Hunt stated. "I am very concerned that fans are voting with their feet and not attending, not purchasing and not engaging with the club."
Whether there was any reply is unknown, but Nick Harris of Sporting Intelligence told BBC Radio 5 live: "I personally don't know [if he got a response to the letter] but I think actions speak louder than words.
"You have to see that the actions, or lack of them, since that letter was sent are the most kind of damning reply he could have got."