Dunfermline 'can deal with drop' - John Yorkston
Last updated on .From the section Football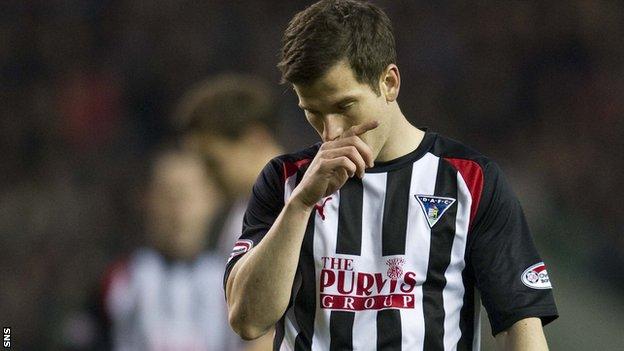 Chairman John Yorkston insists relegation poses no threat to Dunfermline's financial future.
But, with 18 players out of contract, the Pars are facing big changes in personnel over the summer.
"We are living within our means, we have no worries at all," he told BBC Radio Scotland now that the Fife club are dropping back to Division One.
"We don't have any bank debt, we don't have any overdraft. Any money that we owe is due to directors."
A 4-0 defeat at Hibernian on Monday consigned Dunfermline to last place in the Scottish Premier League, with 25 points from 37 games and 80 goals against.
However, Yorkston was far from despondent about returning to Division One after one term in the top flight.
"It's not the abyss everybody makes out," he said.
"We've spent three of the last four years there.
"We will end up at the spending level we were on a year ago and that was good enough to get us promoted.
"We didn't overspend this year. We didn't sign players on long contracts with high wages, so we're not going to have any of that hassle when we go down.
"We've got boys on a two-tier wage - one for the First Division and one for the SPL."
Yorkston will now turn his attention to discussing squad changes with manager Jim Jefferies, who replaced Jim McIntyre in March.
"The crowds will come out for meaningful games," he predicted.
"We have more rivalry in the First Division, with local derbies, and then there is more chance of winning.
"Hibs, when they went down the last time, had crowds of 14,000 because they were playing well and the fans got behind them.
"Obviously, we have to sit down with the manager and go over the budget. Jim has a lot of decisions to make about who he retains in the squad.
"We've got 28 at the moment, with 18 out of contract, and we'll probably end up with a 22-man pool.
"We want to be in the SPL, we think there should be a bigger SPL but we've had good years in the Scottish Football League and the fans have enjoyed it."