Bill Miller 'did not understand Rangers' says fans chief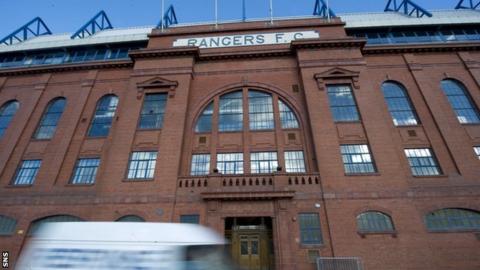 Supporters chief Andy Kerr has rejected suggestions that fan opposition is to blame for Bill Miller's decision to withdraw his takeover bid for Rangers.
The American trucking tycoon had cited anti-Miller banners as one of the reasons for his decision.
But Supporters' Assembly president Kerr said: "We are talking a few people here and it is disappointing when people are effectively pre-judging the guy.
"But I just don't think that he had an understanding of the business."
Miller has also suggested that, only after being named by the administrator last week as preferred bidder, did he realise the extent of the club's financial problems.
Kerr thought that confirmed his own belief that the American did not realise "what was going to be involved to turn the club around, the precarious nature of where we are and where we're trying to get to".
The supporters' chief played down the role of banners unfurled at Rangers' home game against Dundee United - and claims of hundreds of emails received by Miller every day from angry fans.
"The general call from the supporters was 'who are you? Give us an explanation of what you're trying to achieve. Let's try to work together and engage with you and see if we can take the club forward'," Kerr told BBC Scotland.
"That's where we wanted to be, but I'm not surprised that he's pulled out.
"It just seemed an odd scenario that somebody from so far away was trying to buy into a 140-year-old institution."
Rangers are poised to lose £1m per month when the players revert back to their original wages at the end of the season when their agreement with administrator Duff & Phelps comes to an end.
The Scottish Premier League had postponed a vote over new sanctions for clubs in administration to allow Miller time to progress his bid and is poised to announce next season's fixtures before the end of the month.
Duff & Phelps has claimed that three other offers have emerged since Miller pulled out, but Kerr fears liquidation is looming.
"I don't think it's up, but we're in a critical situation and things need to happen very, very quickly," he said.
"I very strongly urge Duff & Phelps and the people they are currently speaking to to move with the utmost haste now.
"And let's be open, let's be honest, let's fully understand another false dawn is going to be the final nail in the coffin.
"We need to try to work towards something that can actually work.
"We need to get some of that out on the table and fully understand what it is going to take to save the club, because that's the point we're at now."