Birmingham City expect new investment, says Peter Pannu
By Ged Scott
BBC Midlands Sport
Last updated on .From the section Football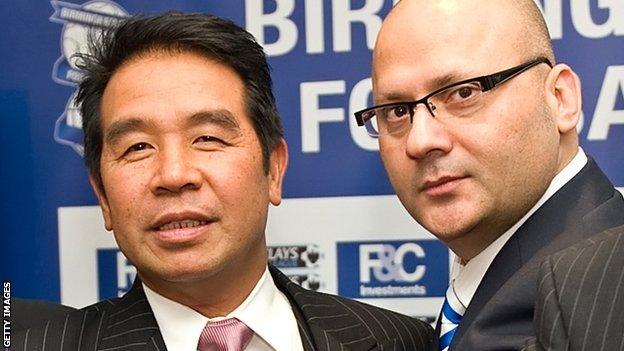 Birmingham City vice-president Peter Pannu insists the Championship club are "not close to bankruptcy" and could be set to attract new investment.
Pannu used the club programme for Wednesday's play-off semi-final second leg to break the silence at St Andrew's and paint a more positive picture.
Blues are yet to submit accounts from last season's relegation campaign.
"I have been informed that, once the accounts are finalised, an investor has been identified," said Pannu.
"A club of our reputation, size, and may I now say, our achievements, would attract interest.
"I have in my own ways impressed upon the members of the parent group's board that should a suitable party come along, they should give it serious consideration."
It was announced last month that Blues' holding company had failed for a fourth time to file the club's financial results for the year to 30 June, 2011.
They are not aided by the fact club president Carson Yeung, their largest single shareholder with a 26.3% stake, who took control in 2009, is in Hong Kong facing money-laundering charges.
But, despite a lot of gloomy press reports going into the Championship play-off semi-final against Blackpool, amid speculation manager Chris Hughton will leave this summer for neighbours West Bromwich Albion, Pannu insists there is still cause for optimism.
"Let's not expect a rosy picture on the accounts but again it is not as bad as people seem to portray it. We're not close to bankruptcy," added Pannu.
"Many reporters had, without foundation, given the yet-to-be-released accounts credence and had gone on to spread a false picture of the club's true financial position.
"I am working very closely with our colleagues in Hong Kong to ensure the group's accounts are filed as soon as possible.
"I am also attending to many of Carson's legal matters with his legal team.
"The club's accounts had been prepared quite some time back and passed to Hong Kong but, due to some technical wordings that needed to be ironed out between the group and the club's auditors, these caused some delays.
"The consolidated accounts should be published very soon and, in any event, before the play-off final."
Pannu admits being relegated from the Premier League under the command of Alex McLeish last May has not helped their financial situation - but insists the truth is a long way from some of the worst-case scenarios currently being offered.
"What is the truth is we were short of the funds spent on players and wages while we were in the Premier League, which Carson promised to cover but it did not quite materialise due to his predicament and the freezing of his funds, for which I'm sure he regrets and feels sorry about as it was beyond his control.
"We also lost a substantial source of income from the Premier League following relegation.
"You may not believe me when I say this but Carson Yeung does care about the club and he would have given us the money he promised if his funds were not frozen."