York City's Matty Blair aims to put best foot forward
Last updated on .From the section Football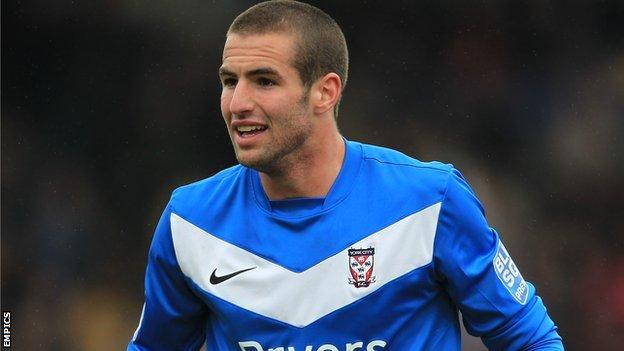 Do not expect to see former Aston Villa and Coventry player Andy Blair jumping for joy if his son Matty scores in the FA Trophy final on Saturday.
York City midfielder Matty Blair, who scored the crucial goal in the semi-final win against Luton and the play-off semi-final against Mansfield, explains why his European Cup-winning dad might be celebrating in a slightly muted fashion if he scores again.
"It was in all the local papers. When I scored against Luton my dad was the first down the steps, celebrating. He fell over and broke his metatarsal and he's been in plaster for six weeks," Blair told BBC Radio York.
"He reckons he'll be fit for the final though and, if I score, he'll probably do it again."
Thirty years ago this month Andy was sat on the bench as Aston Villa won the European Cup in Rotterdam.
Three decades on it is Matty who is attempting to add not one but two pieces of silverware to the Blair family trophy cabinet.
Just eight days after facing Newport, Blair and his York team-mates will be back under the arch to face the Hatters in the Blue Square Bet Premier play-off final, looking to end their eight-year Football League hiatus.
Blair, who moved to Bootham Crescent from Kidderminster in the summer, is relishing the opportunity to walk out at Wembley.
"I've been here as a fan to watch England play Mexico but that's as close as I've come to the pitch before," he added.
"I watched the FA Cup semi-final between Chelsea and Tottenham and it hit home that it's going to be me walking out on to that pitch.
"It hasn't sunk in that we're going once, let alone twice.
"You never think you're going to get days like this, so I'm just really, really excited."
Despite finishing 36 points ahead of Newport in the Blue Square Bet Premier table, Blair believes the Welsh side will go into the final as favourites.
York lost 2-1 at County at the start of April and recorded a 1-1 draw in the return fixture a fortnight later.
"They should be favourites to win the game after what happened in the season, which I prefer as it makes us the underdog," he continued.
"We know what we're capable of and we know we can beat them on our day and we'll come and give it our all."
It might not be up there with the European Cup but if Matty can continue his scoring streak in the big games then the Blair household could be in for double celebrations come the end of the season. Hopefully this time Andy will be able to keep his emotions in check.
Matty Blair was speaking to BBC Radio York sport reporter Sharon Shortle.