Leeds great Gary Sprake calms Cardiff fans seeing red on shirts
Last updated on .From the section Football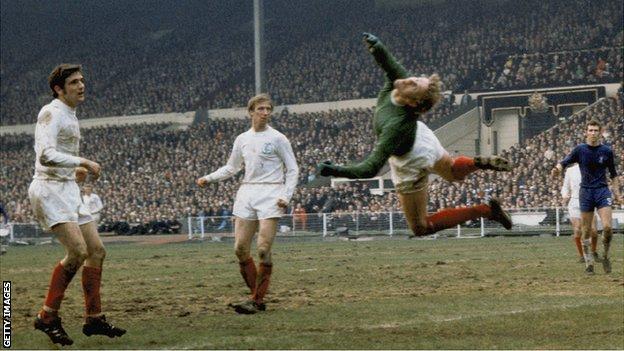 Former Wales goalkeeper Gary Sprake says Cardiff fans should not be afraid of their club's proposed rebranding.
Sprake joined Leeds United just before they ditched their traditional yellow and blue strip in 1962.
"We changed to white and we had great success... [boss Don] Revie wanted us to play like Real Madrid," Sprake said.
"I joined in 1961 and they were still playing in the blue and yellow hoops - called the Peacocks - and then in the 1962-63 season Don Revie said he was going to change the strip to white. It was a great looking strip.
"The players just accepted it and the fans' reaction wasn't all that bad really - they were quite good about it."
Sprake, who won 37 Wales caps, spent more than a decade as the first-choice keeper at Leeds during a period when they became a dominant force in the English game.
Under Revie, who would go on to manage England, Leeds won the old Second Division in 1963-64, the League Cup in 1968, the First Division title for the first time in 1968-69 and two Inter-Cities Fairs Cups - the forerunner of the Uefa Cup and Europa League - in 1968 and 1971.
Equally importantly, success on the pitch helped rescue Leeds from an uncertain financial future - a position not dissimilar to Cardiff's recent history which has seen the south Wales club has flirted with administration.
"In the Sixties when he changed [the kit] there wasn't as much money about as there is now - there were no shirt sponsors - but we just accepted it as a good idea and went along with the boss," Sprake, 67, added.
"I still think there's a lot of tradition at certain clubs: I don't think Manchester United would ever change its strip, or Liverpool, or big clubs like that. They change the design but they keep the same colour.
"These days I suppose money is the main priority. If there were sponsors and everything then maybe [Cardiff] would get more money by playing in red.
"The supporters have got to buy into it really. If they want to keep up and buy players they've got to go into this sponsorship thing.
"I would if I were a Cardiff City fan because you've got to keep up with the times, buy players and try to get into the Premier League."
The club's Malaysian investors believe red is a more dynamic colour for marketing in Asia, as well as of more national significance in Wales.
The owners are keen to put more money at manager Malky Mackay's disposal and an announcement is expected early next week.
Despite opposition from fans, the rebranding is likely to go hand-in-hand with up to £100m of investment, which would wipe out historical debts thought to amount to £20m, increase the Cardiff City Stadium's capacity, build a new training ground and help strengthen the squad.