Roy Hodgson can bring out best in England, says Peter Odemwingie
Last updated on .From the section Football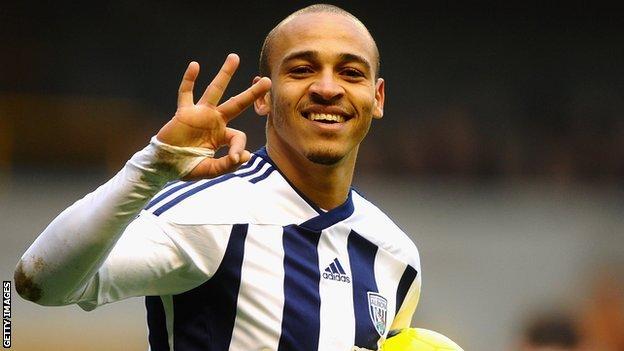 West Bromwich Albion striker Peter Odemwingie says new England manager Roy Hodgson may be able to bring out the best in the national team.
Odemwingie, who plays under Hodgson at Albion, says the 64-year-old is at his best working with "average" teams.
"I'm not saying the English team is average, but they have not shown the world that they are the best," the Nigeria international told BBC Sport.
"Maybe Roy Hodgson might make a difference for them," he added.
"They have great players but they have not won World Cups or European Championships."
Odemwingie said Hodgson was "not perfect" and admitted he and his boss did not always see eye-to-eye.
"It's not so easy to work with him. We did sometimes have a few tensions," he said.
Odemwingie has scored 11 goals in 31 appearances this season, but he was also criticised by Hodgson in October, with the manager saying Albion had not got enough out of him.
But the 30-year-old said he and Hodgson had enjoyed working together overall.
"He has his ways to do things, and if he's appointed as coach of a Premier League club, and then of a country, then he does get jobs done.
"He's an intelligent manager, and he knows how to go about things."
And Odemwingie said West Brom fans regretted that Hodgson was leaving.
"We all look very productive under him, and for the fans, all they need is to get wins in local derbies and stay up in the league.
"So I think they have everything they could wish for in this time."
He also admitted that the West Brom players were unsettled by talk of Hodgson's replacement and wanted the matter settled quickly.
"You prefer to know who you're working with and what you're doing," he said.
"You can see who the next person is, what type of football he likes, and if that suits your type of game.
"We hope it's not going to take a long time for them to bring a new manager in."