Steven Naismith optimistic on Rangers future
Last updated on .From the section Football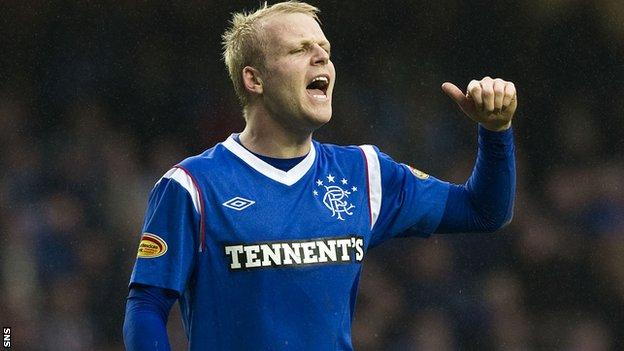 Steven Naismith believes he will continue as a Rangers player despite uncertainty over the club's future.
A the administrator urgently seeks a buyer, the 25-year-old forward remains hopeful of fulfilling the remaining three years of his Ibrox contract.
Naismith has been sidelined by a knee injury since October.
But, asked if he believed he had played his last game for Rangers, he said: "I've not thought about it too much and, personally, I don't think I have."
Further doubt was cast over Rangers' survival on Tuesday when preferred bidder Bill Miller withdrew his offer.
Duff & Phelps says it is now evaluating three other bids in the hope of completing a sale before the end of the season.
"I would like to think there is a team there for the 50,000 who turn up every two weeks and the 100,000 who travelled with the team to a Uefa Cup final," said Naismith, who was speaking at an event to promote Dyslexia Scotland.
"All these people need a team to support and, hopefully, at the end of this, there is a team there for them.
"It's not just a job, to come in and train every day and then play your games. It means more to everybody and it has shown in the results.
"I'm contracted to Rangers for the next three years and if the circumstances don't change then that's where I'll be. Definitely."
Naismith, who along with other Ibrox top-earners agreed a 75% wage cut in March, was the subject of a bid from West Brom that was rejected by the administrator last month.
"There was a lot of speculation about it and the manager spoke to me and said there had been a bid made and it had been rejected," said the Scotland international.
"For me, there was nothing else to deal with, nothing else to do.
"Although it was flattering that someone would make a bid when I was injured, it was nothing I ever really had to consider."
With wages due to revert back to normal on 1 June, it was put to Naismith that Rangers may have no option but to sell their top players.
"Hopefully Rangers don't need to go down that route," he replied.
"As players, we want the best for the club. We have shown that in the past with everything that's been put in front of us.
"We decided to take wage cuts because we thought it was best for the club.
"Unless circumstances change, the players will be right behind the club.
"But, if different things come up, there will be decisions to be made. We will just have to wait and see what happens on that front."
Potential bidders for Rangers may opt for a "new company" solution and the players' union has suggested players may be free to walk away from Ibrox under such circumstances.
Naismith was reluctant to be drawn on the subject, saying: "It's all ifs and buts.
"Some people are saying these are the rules and other people are saying differently.
"The players have shown what they are about by going out and performing when there's not much to play for. They just want a solution.
"Even the boys who weren't Rangers fans before they joined, they have seen what it means to people.
"They become fans. I would say the majority of the squad are now Rangers fans.
"In future, if they were to leave or retire, they will still look at Rangers' results and want them to do well. It definitely means more to the squad than just a job.
"We want the best for Rangers and hopefully that can come at the end of this."