Venky's Blackburn takeover 'not a regret' - Richard Scudamore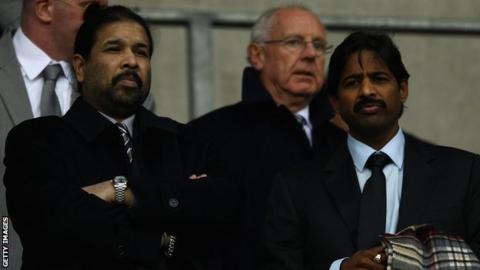 Premier League chief executive Richard Scudamore does not regret allowing Venky's to take over at Blackburn.
The Lancashire club's 11-year stay in the top flight ended when they lost 1-0 against Wigan on Monday.
Scudamore said: "We don't sit here regretting that the owners have actually bought the club.
"What you do regret - for the sake of Blackburn and their fans - is that the performances of the team have led to them being relegated."
The Premier League chief admitted that he sympathises with supporters' discontent but does not think that the rules should have blocked the takeover.
Scudamore added: "I can understand why they will feel aggrieved because they've got a situation where other people owning that club, and managing that club, weren't making the decisions that the fans themselves would have made.
"There was a huge disconnect in terms of what the fans wanted to happen and what the owners were doing.
"But I have to be very dispassionate about that. That doesn't take away the owners' right to make those decisions and make those mistakes, if they ultimately turn out to be mistakes.
"We have rules, quite strict rules. They have passed all the ownership tests that we apply - in terms of the legality of their ownership, funding and right to own a football club. But clearly, when it came to the decision-making and performance of the club, this season it has not been enough to keep them in the league."
He also denies that there should have been any intervention when things started to go wrong at the club, saying: "You can't possibly expect us to be sitting in our office in London and be running clubs.
"We just don't run clubs at all. We put in place a framework of rules but the owners themselves run clubs."
Scudamore denied that Blackburn could slide into financial difficulties in the way that Portsmouth have. The south-coast club have been relegated to League One, having come down from the Premier League in 2009.
He said: "It's difficult for me because I have confidential information about the Portsmouth and Blackburn situations. All I would say to Blackburn fans is that there is very little danger that we can see, from knowing both circumstances, that Blackburn as a club would be threatened.
"The idea that I can give them any comfort as to the future success of the club, that is something that is out of my control."