Ian Holloway praises Blackpool grit after play-off semi-final win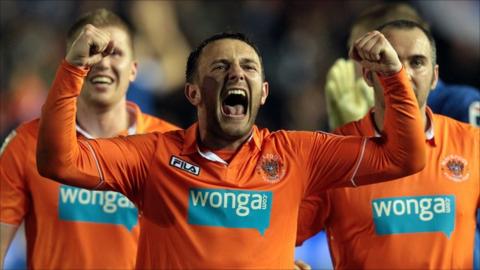 Blackpool boss Ian Holloway hailed his side after they beat Birmingham to reach the Championship play-off final against West Ham.
Holloway praised his players' response to key departures following relegation last season.
"If you asked me last summer when I lost all those players, I would have said this was a dead duck, but it certainly isn't," he said.
"We don't lie down. We keep going and try to do it in a decent way."
Blackpool extended their 1-0 first-leg lead with goals from Stephen Dobbie and Matt Phillips before Birmingham reduced the deficit to 3-2 through efforts from Nikola Zigic and Curtis Davies.
The goal the Blues needed to take the tie to extra time did not come as Blackpool set up a Wembley meeting with West Ham on 19 May as both teams look to make an immediate return to the top flight.
"I'm lost for words - the first time in my life I think," added Holloway.
"It looked like we had done our job and were going to see it through - and what a comeback. It was quite amazing.
"I couldn't get any sense; I couldn't get any message out there. I tried a couple of substitutions and that still didn't stop the flow.
"If they had scored a third one I couldn't see us living with it. It was immense. I've never seen a game twist like that so quickly."
West Ham boss Sam Allardyce knows his team will be favourites in the play-off final after the Hammers beat Blackpool twice in the league this season, but is wary of the threat posed by the Tangerines.
"I'm not sure what we did in the league will make a difference," he said.
"It's a different scenario and different type of pressure. If anything you can say Blackpool have a little bit of the edge as Ollie [Holloway] has been there just over a year ago.
"A lot of the players have been there and won. They will feel confident they can do it again, whereas a lot of us have done the play-off but not got to a final.
"The big pressure is on us because everyone makes us the favourites. We are in good form and if we take that into the Wembley final then we obviously expect we can win the game, but it will not be easy."
Birmingham manager Chris Hughton was satisfied with the resilience shown by his side, but conceded Blackpool deserved to win.
"The fact they scored just before half-time and just afterwards, there's a trail of thought that that's it, the tie's over," he said.
"I'm just so pleased we were able to make a real fight of it towards the end.
"Over the two legs they were the better team, but we showed what we showed all season and that's a lot of character."