Cardiff City ditch colour and badge change proposal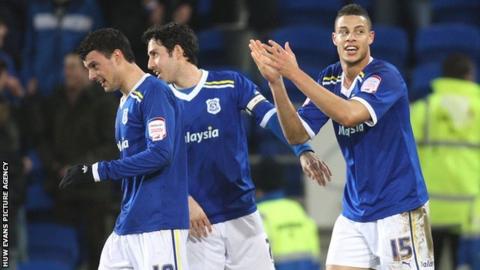 Cardiff City have said they will not proceed with proposals to change from blue shirts to red after "vociferous opposition" from the supporters.
The Malaysian owners conceded that a major rebranding was under discussion and are disappointed that the plans were "leaked" before being finalised.
Fans reacted angrily to suggestions of a colour and badge change, and a meeting had been planned for Saturday.
But the owners stress that change is needed to safeguard the club's future.
"It is clear to all concerned that the club simply cannot continue to function and exist in its current state, effectively losing large amounts of money each month, while acquiring more and more debt," said Cardiff chairman Dato Chan Tien Ghee in an open letter published on the Cardiff City website.
"We have continued along this path until the end of the current season, but the club inevitably now faces bold and real world decisions should we want to see the club survive.
"As romantic and simplistic a notion as it may seem, maintaining our current course without growth or change, is not, and cannot be, an option."
Click here for more on this story.