Off The Bawl - 5 May
Last updated on .From the section Football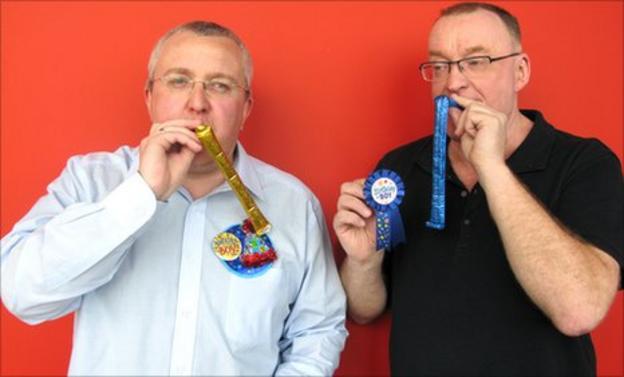 Greeeeeetings!!! Our guests on Saturday were the Radio Scotland, Radio Clyde, Radio Five Live, Channel Four, STV, Sunday Herald and Scotsman journalist Graham Spiers (a man who'd clearly get a piece at any door) and former ref Charlie Richmond.
"Can you save what little sanity I have left?" asked regular listener Jim in Netherlee. "When you mentioned that Spiersy was on the show, I jokingly told my wife that I hoped he hadn't brought his piano. However, judging by the baffled look on her face, I'm now questioning myself. So did he play the piano on Off The Ball or did I imagine it?"
No Jim, you didn't imagine it. Spiersy did play the piano (badly) on Off The Ball. He has also tinkled the ivories on Tam's old show, Offside, and the dearly departed Scotsport.
On all three occasions, Mr Spiers totally murdered the Elton John classic, "Your Song", which led to an impromptu debate on Saturday's show... who does Elton really support?
The best answer came from Willie in Coatbridge, who said: "Elton is clearly a Rangers fan because Sorry Seems To Be The Hardest Word..."
Meanwhile, the refreshingly outspoken Charlie Richmond also had his supporters.
James in Strathaven said: "It's great to hear a ref blow the lid on what it's like to be a match official in Scotland. I always thought Charlie was very fair and honest - not like some of the current crop of officials."
And Terry the Jambo said: "Ask Charlie to write a book - it would be a belter. At least he's not scared to name names. Good on you mate."
Meanwhile, there were plenty of emails and texts on the never-ending Rangers saga.
Hamish in Aberdeen said: "Talk about a school bully? Clubs are scared of Rangers' fan power and don't want to lose their fans' money. As a Rangers supporter myself, I want to drop into the Third Division as it will be a more interesting three to five years until we get back into the SPL (if the SPL hasn't gone out of business by then). Let's face it, the SPL chairmen want Rangers in the league for their own selfish reasons - ie money."
Iain in Edinburgh said: "Good on you Stuart for giving it tight to Graham Spiers. Ask Graham if he'd offer SPL status to any other defunct club? Imagine the same scenario with Aberdeen or Hearts? Is a corrupt league good for the national standing of Scottish football?"
Scott in East Neuk said: "Newco? Won't go. Dead simple. I've been to 20 games this season to watch several clubs and I would honestly boycott every game next season played at an SPL ground - including Scotland U-21 games."
Norm in Inverness said: "Well done guys. Off The Ball has consistently said what all non-Old Firm fans have been thinking. Do you now think Romanov has been correct all along and not quite the 'Mad Vlad' character as portrayed in the west coast media?"
Meanwhile, moving on to more important matters... who could advise Tam on the best way to get rid of his massive coldsore?
Rossie in Inverness said: "Put a daud of toothpaste on it and leave it for as long as possible before repeating the procedure. That dries it out."
Dego the punk fae Airdrie said: "Tell Tam to put salt on his lip and it will heal up in no time."
(Should Tam really be taking medical advice from a guy called Dego the punk fae Airdrie???)
Anne-Marie from Hamilton said: "Dab you sore with cold black coffee, Tam. It works!"
Paul in Motherwell said: "Stick your left pinkie up your backside for exactly six minutes and then rub the coldsore. This won't cure it, but it will stop you licking your lips...!"
Moving swiftly on...
THE TEAM OF THE WEEK
The Beer XI (aka Real Ale Madrid)
Manager: Swally McCoist
Assistant: Shandy Jardine
1/ Andy Goram (he was heavy)
2/ Des McEwans
3/ Emilio Geez-a-beer-eh?
4/ Tommy Ring pull (c)
5/ Sol Campbell
6/ Zander Double Diamond
7/ George Best
8/ Josh McGuinness
9/ Craig Brew-ster
10/ Kenny Deuchars
11/ Willie 'Bud' Johnston
And finally... the song that played us out?
Well, as a wee tribute to the boys at Fraserburgh FC, who are appearing on Channel Four's Embarrassing Bodies in the bare buff to highlight the awareness of testicular cancer, we finished the show with the old classic... "I've Got A Lovely Bunch Of Coconuts".
PS After talking about the book Graham Spiers wrote on Paul Le Guen, a curious Tam asked for a translation of Le Guen.
Davie in Glasgow emailed to explain: "Le Guen means The Guen..." Cheers, Davie!
To join in the fun on this Saturday's show, call 0500 929500, text 80295 or email offtheball@bbc.co.uk
Listen to the most recent Off the Ball programmes.
Download the latest Off the Ball podcast.