Plymouth Argyle owner aims to keep boss Carl Fletcher
By Brent Pilnick
BBC Sport
Last updated on .From the section Football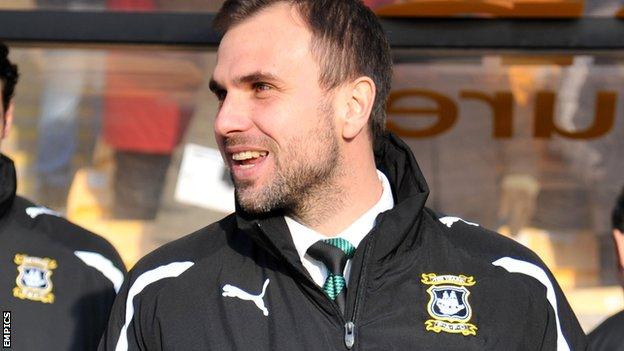 Plymouth Argyle owner James Brent is keen to keep Carl Fletcher as manager, despite being approached by a number of other potential bosses.
Fletcher has been in discussions with Brent since guiding Argyle to League Two safety last month.
Fletcher took over as manager after but it is understood that his deal was only until the end of the 2011-12 season.
"Hopefully we'll reach an agreement," Brent told BBC South West.
"We're in discussions about Carl and the management team staying, they're reasonably advanced," Brent added.
Last week Fletcher told BBC Radio Devon that he was "not sure" about his future as Home Park boss.
And Brent revealed that the Argyle role is one which has attracted other potential candidates to get in touch with him about taking over.
"We have been approached by a number of senior football managers," he said.
"I think we have an exceptionally good football club with huge untapped potential, people who understand football much better than me see that potential and are excited by it.
"But the ambition is to clearly to carry on with Carl and his colleagues."
Fletcher stepped up from his role as captain to take charge of the side and has been assisted by recently-retired Argyle goalkeeper Romain Larrieu and former Plymouth player Kevin Nancekivell.
And Brent says that while discussions about retaining the services of Fletcher and his team are "reasonably advanced", the management team are getting on with the task of building a squad for next season.
"They are very professional in this and they have carried on working with the purpose both of securing existing talent and targeting new talent, it's not having any impact whatsoever.
"We want to compete to win next season, we don't want to compete to stay up.
"It's a subtle difference but an important one, we're not aspiring to be mid-table, we're aspiring to succeed."