Former England assistant John Gorman makes his final stand
By Chris Osborne
BBC Sport
Last updated on .From the section Football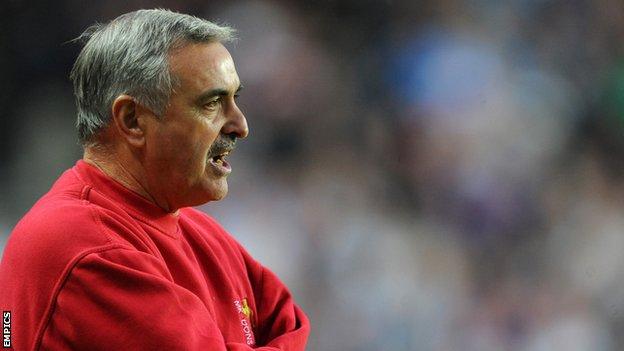 Ask John Gorman why he has made a career out of being an assistant manager, and he will quickly remind you he has had his fair share of time as the main man.
The current assistant to Karl Robinson at MK Dons has managed at Swindon, Wycombe and Northampton but, as he calls a day on 44 years in football and looks to help guide the Dons through the League One play-offs, it is his recurrence as a reliable and ardent number two that is the stand out factor of his life as a coach.
"You get paid less," the 62-year-old quipped on the major differences between the boss and his sidekick.
"It's not all about the one man like the press make it out to be. An assistant is what his name is and I feel I've been a good one. A good assistant should be totally loyal to his manager.
"Occasionally you think 'I could be the manager', but I'm pretty good that way. I realise when you're in a job you get on with it."
A successful playing career, which included being part of the Carlisle squad that reached the top flight in 1974 and a spell at Tottenham, was followed by stints as an assistant.
None of these was more notable than his time with Glenn Hoddle in the England set-up, which ended in 1999 following Hoddle's dismissal in controversial circumstances.
England had reached the second round of the World Cup the previous year, going out to Argentina on penalties.
"We felt there was unfinished business. I felt I did as best as I could being Glenn's assistant," said Gorman.
"I think if England had beaten Argentina they'd have gone on to win it. But we'll never know.
"Glenn was an excellent manager and, given a bit more time, he possibly could have achieved something with England."
The proud Scot, who was never capped for his country, insists he found the transition from club coaching to the international scene a seamless one.
"It meant so much. It's the greatest honour in anybody's career to work at international level," he recalled.
"I found it easy to be honest. I took it in my stride.
"I've enjoyed working with individuals - whether it's trying to improve Michael Owen or Roger Johnson [formerly of Wycombe and now of Wolves], who went on to play in the Premier League."
The Robinson-Gorman pairing at MK Dons is one that has produced entertaining football and positive results but, so far, not the elusive promotion to the Championship that chairman Pete Winkelman so passionately desires.
Robinson, the youngest Football League manager when he was appointed in 2010, is routinely linked to larger clubs.
And, much like Alan Pardew, who worked with Gorman at Reading and is now leading Newcastle United in the upper echelons of the Premier League, Gorman sees Robinson as a future top-flight boss.
"I heard Karl was a good up-and-coming young manager and they needed someone like me," he said.
"It was a bit like Alan Pardew, who got the job at Reading because I came as his assistant. Let's not let Alan forget that.
"I reminded him about it the other night. And look how he has gone on to further his career. He wouldn't have got that stepping stone unless he had that experience with him."
Health problems have prompted Gorman to take his decision to walk away from the game, but he has a chance to leave on a high note by guiding the Dons to the Championship for the first time since their formation eight years ago.
A two-legged semi-final against Huddersfield looms before a potential play-off final at Wembley.
"We aim to have a go and get to Wembley. It will be a great way to go and finish my career," he said.
"The chairman, the players and the staff deserve it because of the philosophies they've stuck to. But it doesn't always happen.
"Going to Wembley would be a fantastic way to end my career but if we don't, I'd still say we've had two great seasons."
And what if, in a few years time, he settles down on his settee to watch the Dons line-up in the Premier League?
"I'd feel gutted because I won't have been part of it," he admitted.
"But I can always say I was part of that, laying down the stepping stones. I can feel quite proud of that. It will be very satisfying."