FA Vase: Dunston and West Auckland fly Northern League flag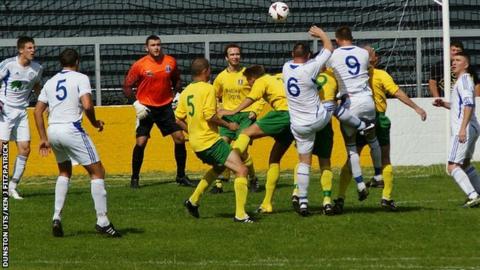 FA Vase final: Dunston UTS v West Auckland
Venue:

Wembley Stadium

Date:

Sunday, 13 May

Kick-off:

1500 BST

Coverage:

Live commentary on BBC Sport online from BBC Newcastle and BBC Tees
The FA Vase has been a lucky competition for Northern League clubs during the last four years.
Whitley Bay have won consecutive finals at Wembley over the past three seasons, emulating the 1970s success of Billericay Town.
And this year, the league's clubs have gone one better, with an all-Northern League final between Dunston UTS and West Auckland ensuring a fourth season of representation.
"It's a good thing in that it's a good advert for the league," Auckland boss Peter Dixon told BBC Tees.
"[There were] 531 teams [that] started in this competition, and for the level we're at, for two teams in the same league to be in the final of the national competition gives an indication of how strong it is."
Both sides have racked up the miles on the road to Wembley, with trips to Bournemouth, Herne Bay and Bristol among the jaunts.
"The word Dunston has gone around the country already with the run and the good teams we've already played to get here," manager Billy Irwin told BBC Newcastle.
"I don't think I could describe it, I can't put it into words, how proud I will be to leading the team out.
"I'm from Dunston, I live here, I'll be the proudest man in the world."
Such travelling has taken dedication and sacrifice from players who, unlike the majority of those who step out in Wembley finals, juggle employment with their semi-professional football careers.
In the case of West Auckland defender Matthew Coad, a cruciate ligament injury almost ended his career entirely.
He was able to return to amateur football, combining his sporting commitments with full-time work as a parts delivery driver.
"With the injury that I've had, I could have never played football again, but then to have the season that I've had is massive," he said.
"Not many people like myself get the opportunity to go there, it's the ones who earn thousands of pounds who go to do it.
"For someone like me, who does a normal job, to go and play where those top earners play is fantastic."
For the Northern League's chairman Mike Amos, the event is a showcase for the division.
"It's an absolute dream come true, it's only the second time two North East clubs have met at Wembley," he explains.
"It's beyond belief. What we really want is for every football fan in the North East, no matter who they support, to think this is a great chance to go to Wembley and see a great game.
"We would love people to say that this is a great game, and if their team isn't at home they'll come to watch a Northern League game."
With four meetings between the two clubs so far this season, results have revealed well-matched opponents.
Equally just five points separated the two clubs, with West Auckland finishing runners-up, and Dunston ending the campaign in third spot.
"It should be a classic cup final, not in terms of the entertainment, but in terms of two evenly-matched sides," Dixon added.
"We've had two draws, we've beaten them once and they've beaten us.
"Whoever handles the occasion best on the day will probably come out victorious - hopefully it's us."