Talks between Mali and coach Alain Giresse break down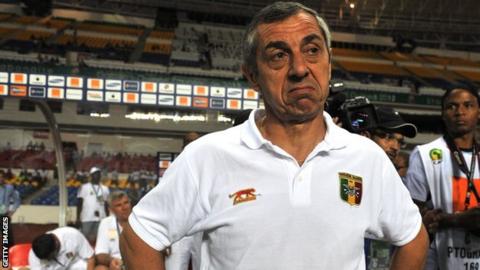 Frenchman Alain Giresse says talks with the Mali Football Federation (FMF) over renewing his contract have broken down.
Giresse's contract is due to end on 31 May and he is unhappy the FMF want to make changes to his new deal.
The Federation are insisting it wants to 'validate' his squad lists and it wants control of the medical team.
"I asked for changes and they said no, these are points that are staying and I said if those remain, then I'm not renewing" Giresse told BBC Sport.
Mali, who finished third at the Africa Cup of Nations earlier this year in Equatorial Guinea and Gabon, begin their 2014 World Cup campaign away to Benin on 3 June.
"[The issue is] my independence - I was to be required that I give my list to the Federation for validation, and that I would no longer have authority over the medical staff, that was enough.
"I was quite surprised to see such a thing in the proposed contract.
"These things weren't in my first contract, and I was surprised after two convincing years [of performances] - the result at the Nations Cup demonstrates that."
The FMF vice-president Moussa Konate explained the changes the federation want to make.
"In his first contract, it was specified that he should submit the list of selected players to his employer, all we want to add now is the word 'validation'," he said.
"But he does not seem to agree with that.
"The second point regards the medical staff. We think that Mr Giresse is a coach, not a doctor. So we thought that we should choose the medical staff.
"We are going to do what we can to try to keep him. If it's not possible, we will find another solution for the national national team."
It is not the first time Giresse has fallen out with the FMF - he was unhappy when it sacked his assistant Cheick Diallo without his consent in the build up to the Nations Cup.