Owners Venky's deny Blackburn is for sale following relegation
Last updated on .From the section Football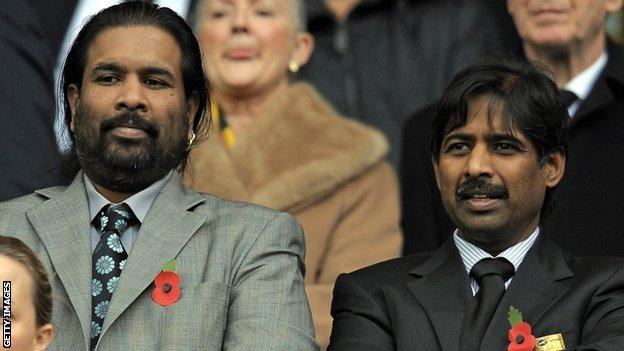 Blackburn owners Venky's have denied the club is for sale following relegation from the Premier League.
Rovers' 11-year stay in the top flight came to an end on Monday following defeat to Wigan, prompting fans to call for manager Steve Kean and the club's owners to leave.
"It is a company of ours and there is nothing in it," co-owner Venkatesh Rao told the Times of India.
Meanwhile, MP Jack Straw has called for an investigation into Venky's takeover.
Writing in his Lancashire Telegraph column, Straw said: "At the heart of the Premier League's wilful neglect of its responsibilities is its so-called 'fit and proper person' test.
"The test is laughable and almost everyone in the business knows this. It allows no period of probation for new owners, no assessment of their managerial competence, no disclosure of the insidious role of agents.
"The Premier League must now mount a full investigation into what business model Venky's thought they were buying and how much money has been made by those who sold them this model.
"I cannot believe that this Indian family poultry business had any idea of the financial and reputational risks they were taking on. Why were they not warned?"
Blackburn confirmed the departure of deputy chief executive Paul Hunt on Thursday, but Rao denied that his dismissal was as a result of a leaked letter calling for Kean to be sacked.
"It is not sacking because of that," he added. "Some staff have to leave and we have to bring budgets down, so it is nothing to do with it."