Irish League Select squad named for Harry Gregg testimonial
Last updated on .From the section Football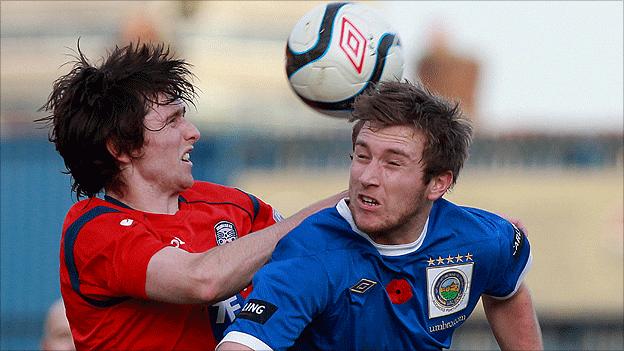 Eight clubs have players named in the Irish Select squad to play Manchester United in Tuesday's Harry Gregg testimonial match at Windsor Park.
Irish Premiership champions Linfield have six players on the 18-man panel.
At Gregg's request, League of Ireland club Derry City are represented, with former players Sean Hargan and Peter Hutton included.
Sir Alex Ferguson is expected to bring a strong United squad over to Belfast for the match.
It is believed there are only a few hundred tickets left.
The Irish League Select team will be managed by Linfield manager David Jeffrey and Sunderland boss Martin O'Neill.
It is understood, three Irish League clubs - Glentoran, Glenavon and Donegal Celtic - could not provide players because they did not have insurance cover.
Irish League squad: Alan Blayney (Linfield), Sean O'Neill (Crusaders), Jim Ervin (Linfield), Albert Watson (Linfield), Howard Beverland (Coleraine), Ross Redman (Portadown), Philip Lowry (Linfield), Jamie Mulgrew (Linfield), Stephen Lowry (Coleraine), Barry Johnston (Cliftonville), Chris Morrow (Crusaders), George McMullan (Cliftonville), Martin Donnelly (Cliftonville), Mark McAllister (Linfield), Chris Scannell (Cliftonville), Gary McCutcheon (Ballymena United), Sean Hargan (Derry City), Peter Hutton (Derry City).