Graham Westley wields the axe at Preston North End
Last updated on .From the section Football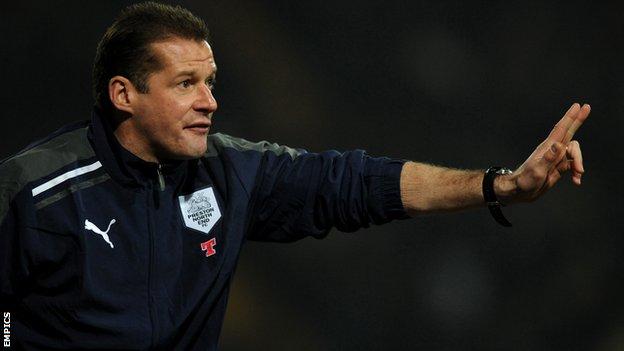 Preston North End's Graham Westley has shown 21 players the exit as he plans to rebuild the League One club.
Seven players have been transfer-listed and another 14 have been released, while a further three loan signings will return to their parent clubs.
"My job is to develop a plan that would see the club back on an upward curve," Westley told BBC Radio Lancashire
"The plan is in place. I'm looking forward to working with a group that thinks along the same lines that I do."
Andy Proctor is one of the few who will stay at Deepdale, but has relinquished the club captaincy.
The decision comes a day after Neil Mellor announced his retirement from football following a knee injury.
"I'm sure I'll be working with a group that wants to do what I want it to do," Westley added.
"I want to work with players who want to put in the hours and effort and the work that it takes to succeed.
"It's no secret we've reached a compromise to get the lads to do a little bit less than I want them to do just to get through to the end of the season.
"That's unhealthy for everybody and it leaves you, as a manager, frustrated. If you push people to do what they really won't do then they won't give you a performance."
Westley believes he can reverse the fortunes of a club who finished the season in 15th place in League One, if he is given free rein over transfers.
He said: "I think the fans will look on the whole season and they're not going to think 'this bloke has delighted us with the football that has been played'.
"But it's hardly been a Graham Westley team and everybody is starting to realise that.
"You need your players out there, players who want to play for you and do it your way - now I've got the opportunity to do that.
"Next season, the fans will start to see a team that is in my design, my creation. I can start to make my mark on the club in terms of the type of player that I think we need."