Marcus Bean appreciates 'love' from Brentford supporters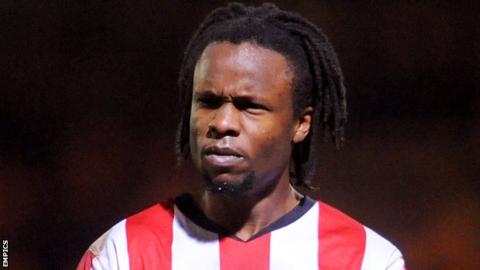 Midfielder Marcus Bean has been touched by the reaction of Brentford fans after the club decided to release him.
Bean started 22 times for the Bees this season but was not offered a new deal.
"Playing so many games this season and being there for so long, you almost half-expect to be offered something," the 27-year-old told BBC London 94.9.
"It is tough. I hold no grudges. What's made it more difficult is the outpouring of love I've been getting on Twitter from fans. It's been amazing."
The former QPR player has made 144 appearances since arriving at Griffin Park four years ago and he says it will be difficult to leave.
"It's been up in the air a long time. It's like a relationship almost," he said.
"You put a lot of effort into a relationship and [if] it doesn't work out you've got to look to try and move on, but it's always hard."
Bees manager Uwe Rosler led the club to ninth place in League Two, only six points adrift of the play-off places, after taking charge last summer.
And Bean, who was part of Brentford's League Two title-winning team in 2009, admitted that not being one of Rosler's signings could have affected the decision to let him go.
"It's down to the manager, he makes the decisions.
"I always felt me not being one of his players that he actually brought in put me in a difficult position.
"What he said in the meeting was very honest. He just said, 'You've had a good season, you've done well but I just want to go in a different direction - stamp my mark on the team.'"
Fellow midfielder Sam Wood and defender Karleigh Osborne have also been released and Bean admitted the transfer market is a game of "cat and mouse".
"There are so many players out of contract," he said.
"I don't want to turn something down or leave someone waiting too long, because you know there's going to be a player out there ready to snap it up."