Man City and Man United will 'dominate football' says David May
Last updated on .From the section Football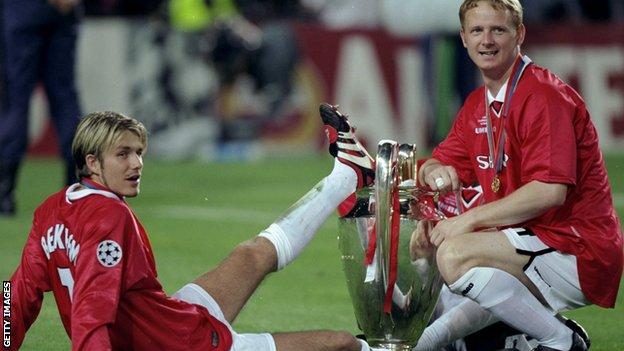 David May believes the two Manchester clubs will "dominate football for the next three or four years".
However, the former Reds defender believes United need to reinvest in their squad to keep pace with City.
"Money is a part of it," said May. "City can afford to pay the wages they do, and the United manager has a wage structure, which he sticks by.
"It is whether the history and the prestige of playing for Man United can attract those [top] players."
May won two Premier League titles, two FA Cups and a Champions League during his nine-year spell at Old Trafford.
He actually grew up supporting City, before switching his allegiances to the red side of Manchester.
And the Oldham-born centre-back, who now runs a wine import business, is delighted to see both clubs at the top end of the Premier League.
The Blues are likely to pip United to the Premier League title if they beat Queens Park Rangers on Sunday, because of their superior goal difference, but May expects similar battles for the title between the two clubs in future seasons.
"I think it's fantastic both City and United are dominating football, and I think it will happen over the next three or four years," May told BBC Radio Manchester's Red Wednesday programme.
"City are odds-on favourites to win it this season, and rightly so. I'd love to say we [United] have got to beat QPR at home to win the league because I just can't see City slipping up. Not a chance.
"Over the season, we have had chances to go on and win the league and we have not done it. We are running out of games now, but, after 38 games, whoever is top deserves to be there.
"United need to get their hand in their pockets now and try and get up there with what City are doing. We know Chelsea, Arsenal and Tottenham will reinvest [this summer], so United need to do the same."