Brendan Rodgers to shadow world champions Spain before Euros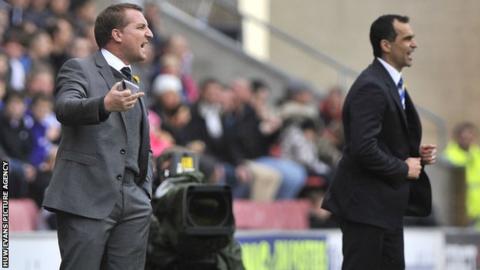 Brendan Rodgers has revealed he plans to watch world champions Spain prepare for the Euro 2012 tournament at the end of the season.
The Swansea City manager, who speaks Spanish, says it will give him an ideal opportunity to see the latest developments at the highest level.
"I am just off for a few days to watch training, to mix with the staff and exchange ideas," said Rodgers.
Swansea host Liverpool in their final game of the Premier League on Sunday.
Rodgers' side have won plaudits for their passing style and for finishing in a respectable mid-table position in their first Premier League season.
Rodgers admitted the trip to Spain to watch Vicento del Bosque's side is his only chance during a season to take on board new ideas and developments in the world game.
"They are the world champions, have been European champions and it's just great to be in that company to see the preparations," he said.
"It's difficult in season to do that because you are so busy and tied up on a daily and weekly basis.
"I have done it all my life. At the end of a season I always look to go away and keep on top of the game at the leading edge."
Spain won all eight of their qualification games for Euro 2012 and are in the same Pool C as Croatia, Italy and the Republic of Ireland.
Rodgers is also planning a trip across the Atlantic to watch Chris Coleman's Wales side face Mexico in a friendly in New York on Sunday, 27 May.
Swansea City trio of Neil Taylor, Ashley Williams and Joe Allen are in Wales' 23-man squad.
"I come back and travel to New York to see Wales play, and to see my players feature against a very good Mexican team," he added.
Rodgers will return to the United States with Swansea in late July for a 10-day pre-season tour, which will include games against MLS sides Colorado Rapids (24 July) and San Jose Earthquakes (31 July).