Danny Lennon echoes Terry Butcher's Rangers concern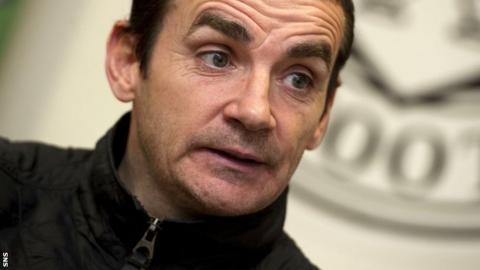 St Mirren boss Danny Lennon says the consequences of Rangers not being in next season's Scottish Premier League would be disastrous for his club.
Lennon echoed similar comments made by Inverness counterpart Terry Butcher about the possible impact Rangers' absence would have on the Highlanders.
Rangers' future is uncertain, with administrators yet to find a buyer and the threat of possible sanctions.
"We depend more on TV money than the Old Firm do," Lennon told BBC Scotland.
"It's vital for us. If we didn't get it we wouldn't be able to honour our existing player contracts.
"I'm sure Rangers will survive and we need them to be in the SPL.
"Maybe this is one situation where morally you have to do the wrong thing for the right reasons and keep them in the SPL for the greater good."
Former Rangers captain Butcher, who spent four years as a defender at Ibrox, feels planning for next season is tricky without knowing what is in store for his old club.
"From our point of view, it would be a disaster if Rangers were not in the SPL," said Butcher on Thursday.
"We need the Old Firm in the SPL for us to survive, like all the other clubs.
"All the chairmen are waiting to see what happens. The Rangers situation is far from clear.
"I've been given a budget on the proviso that Rangers will be in the SPL and I'm sure that's the case at most clubs.
"If the situation changes then you're looking at clubs having to cut their cloth accordingly - and that's cutting a lot of cloth.
"TV companies would pull out, sponsorship as well; so our budget would change."
Having twice postponed voting on the issue, SPL clubs will meet to further discuss proposed new financial fair play rules on 30 May.
Top flight clubs have agreed that all of the remaining 11 members will consider any "new company" application should a potential Rangers buyer explore that route out of administration.
"All I know is what I read in the newspapers and on the websites," added Butcher. "It's an ever-changing story and you don't know quite what to believe.
"All we can do is see what the SPL chairmen make of the situation and act on their choices."
While Butcher is concerned about the plight of Rangers, Inverness should benefit financially from the promotion to the SPL of neighbours Ross County.
"Football in the Highlands is thriving," he enthused.
"When the fixtures come out, everyone will be looking to see when we play Ross County and we can't wait.
"We had some great battles in the First Division and I'm sure we'll have great battles in the SPL.
"We're looking forward to four local derbies. We want to finish above them and they want to finish above us, so it will be a great Highland battle.
"The focus has moved away from Glasgow. We had Kilmarnock winning the League Cup and now we have an Edinburgh derby in the Scottish Cup final.
"The balance of power has shifted or dropped, if you think about the mess Rangers are in."