Rangers: Blue Knights withdraw offer after bid fails
By Chris McLaughlin & Matt Slater
BBC Sport
Last updated on .From the section Football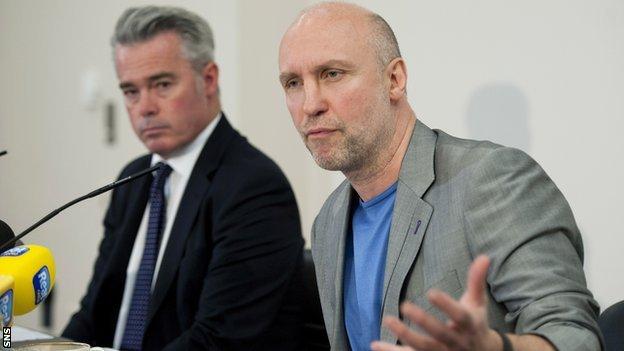 The Blue Knights have withdrawn their offer to buy Rangers after their latest offer to take control failed.
The consortium's Brian Kennedy valued the bid at £11m conditional on agreeing a company voluntary arrangement and securing Craig Whyte's shareholding.
Rangers' administrator Duff & Phelps described some of the Blue Knights' claims as "grossly misleading".
Kennedy and Paul Murray had hoped their group could effect a CVA and start again from a position of no debt, with former Rangers managers Graeme Souness and Walter Smith and one-time Scottish Rugby chief executive Gordon McKie involved in the rebuilding process.
The BBC understands nearly £8m of the Blue Knights' bid was a combination of money owed to the club, including transfer fees, and incentive payments linked to Champions League participation, which could only be realised after next season due to Rangers' ineligibility for European participation in season 2012/13.
It is also believed budget cuts and player sales would have been required in the short term.
Speaking at a joint news conference with Murray, Kennedy said: "This is not about us owning Rangers Football Club. It's about Rangers Football Club surviving.
"I'd be delighted if Duff & Phelps are able to pull one out of the hat and come up with a fantastic bidder. I fear they may not be able to do that.
"We see the only way forward for the club is to effect a CVA. There is no time left to effect a successful CVA and to exit the club in a healthy capacity from that process.
"We told Duff & Phelps that on a number of occasions. The process has gone on far, far too long for various reasons."
Murray added: "Time has now run out. Decisions that are made now are absolutely critical to the future of the club.
"I really hope this time they [Duff & Phelps] have got it right. If they haven't, the future is pretty bleak. This is absolutely critical now."
Duff & Phelps say owner Whyte has agreed to transfer his 85% majority shareholding to two of the parties in the bidding process.
Kennedy spent three hours with the former chairman at his Granton-on-Spey Castle and claimed to have struck an agreement to obtain Whyte's shares.
"He wants Rangers to survive and agreed to give me his shares," Kennedy said.
"When you have got an institution like this that is at death's door, what is important is deliverability, not just quantum, which is substantial."
David Whitehouse, of Duff & Phelps, responded: "Throughout the process Mr Kennedy told us repeatedly he would be the 'last man standing'.
"Of the £5.5m cash on 'day one' figure Mr Kennedy quoted, £3.5m of that would be provided by us in any case from the club's debtors.
"The bid structure also factors in performance in Europe, and reaching the later stages of the UEFA Champions League which cannot be achieved next season for example.
"We therefore find it extraordinary and very disappointing that Mr Kennedy in particular should assert that the amount being offered is irrelevant.
"Time and again he and others have been afforded the opportunity to become the best bid in play and it has not happened. We have a statutory duty to accept the best bid that is deliverable.
"The bid should also be commercially better than the liquidation of the business."
Kennedy later published a letter from his lawyer to Whitehouse which disputed Duff & Phelps' interpretation of the bid and highlighted that the Blue Knights had agreed to fund the "huge" trading losses that are expected after the season's end.
The letter also stated that Kennedy and his lawyer "don't believe the other bidders will complete" a deal.