Roberto Mancini says Manchester City have played best football
Last updated on .From the section Football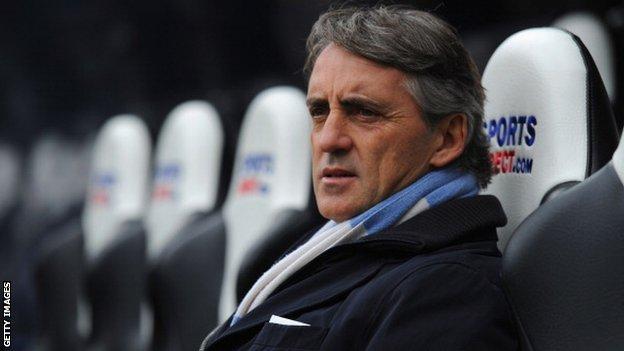 Manager Roberto Mancini says he trusts his Manchester City side to finish the job and be crowned champions on Sunday.
But even if they fail, the Italian insists his side have played the best football in the league this season.
Mancini's men are ahead of Manchester United on goal difference and will win the Premier League title by equalling their neighbours' result.
"I trust them 100 per cent," said the Blues boss. "They know they have everything in their hands."
He added: "They've worked very hard and fought for every game, for one year, and in this championship that is very hard.
"I think in the end the team that wins deserves to win, always.
"We have played the better football, 100%, even if we don't win, we played the better football."
City lead heading into the final day despite slipping eight points behind neighbours United following defeat at Arsenal on 8 April.
Mancini's side meet QPR at the Etihad while United must travel to Sunderland.
"I think that, at that moment, it was good for us because it took off all the pressure," said Mancini, who believes City would be worthy winners having led for most of the season and scored the most goals.
"Like all teams, it is impossible to play well every game for one year. We had one month where we had a problem - we didn't play well, we conceded easy goals, we didn't score. This is normal, I think.
"But we always believed, also when we were eight points behind.
"Against United and Newcastle we played really well, as a strong team mentally, and I think we should do the same on Sunday."
Ferguson and QPR boss Mark Hughes have described Mancini's tactics as negative, with Ferguson claiming City played with an Italian mentality by switching to a five-man midfield during their crucial derby victory on 30 April.
"I agree with him," joked Mancini, who later said the same about Hughes. "I'm Italian, I can't change my mentality, and he's Scottish."
But he added of Ferguson: "I think he's the best manager in the world."
And should Mancini beat the legendary United boss to the title, he will be staying well clear of controversial striker Mario Balotelli.
"If we win, it's better to stay far from Mario because it'll be very dangerous!" he quipped.