AFC Bournemouth striker Steve Fletcher to play one more season
Last updated on .From the section Football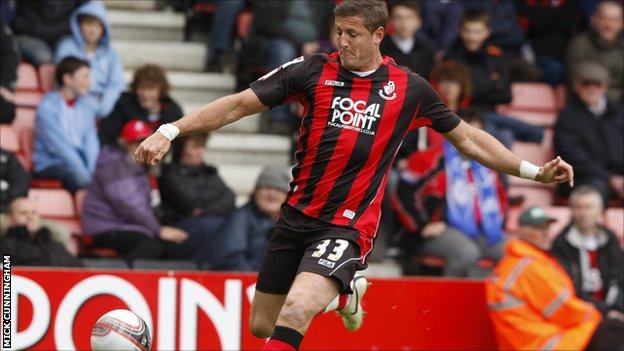 Bournemouth veteran Steve Fletcher is to play one more season before probably retiring from football.
Striker Fletcher, 39, has played 712 times for the Cherries and next season will be his 18th for the club in a career spanning over two decades.
He says while his mind is as fresh as ever, injuries are starting to catch up with him as he approaches 40.
"It will be injuries that stop me playing, my left knee in particular," Fletcher told BBC Radio Solent.
Fletcher, who has one year left on his contract, added: "That what will restrict me, some days are better than others.
"I still have the heart and the passion and the desire and if I didn't I wouldn't be coming up to 40-year-old and still playing."
New Bournemouth manager Paul Groves says he has no intention of ending Fletcher's career at Dean Court early and believes he still has a vital role to play at the club, despite rumours this season would be his last.
"Why would you want to take the boots off somebody that loves the football club, that is this football club through and through?" Groves told BBC Radio Solent.
"We recognise how valuable Steve Fletcher is to this football club and you don't want to take the boots off somebody who is that effective in both boxes."
Fletcher said Groves' endorsement was music to his ears and he feels he can have a role on and off the pitch next season.
"At my age all you want is a manager who want you to carry on playing," he added.
"There will be doubters out there but the majority of people at this football club still want me to play.
"I spoke to Paul and Shaun Brooks in depth about being a link between the players and staff and not just that I want to help the club move forward as a ambassador.
"I've got to find a line of work I do after I retire and this could be the season I test whether I can do it."
Fletcher was also quick to praise the appointment of Groves and his assistant Brooks, and feels they can turn things around next season.
"They've got the respect of the boys and I'm sure a few of the things that went wrong this season, they will put right," he added.