Sheffield Wednesday's Lines praises Dave Jones impact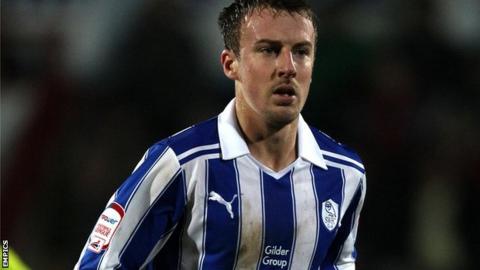 Sheffield Wednesday midfielder Chris Lines has praised the calming influence of manager Dave Jones.
The Owls were promoted from League One last week after going on a 13-match unbeaten run following Jones's appointment in March.
"He brought in a bit of calmness around the club. He's not the type to be bawling and shouting during matches," Lines told BBC Radio Sheffield.
"You know he's worked at a top level and that's shown in our results."
He added: "He's given everyone a bit of confidence and we've played some great football since he came in."
Lines, who joined Wednesday from Bristol Rovers last summer, made 41 league appearances to help the club return to the second tier after two seasons in League One.
Having previously enjoyed promotion with the Pirates in 2007 he admitted he was taken aback by the scale of the celebrations following the Owls' success.
"It's all new to me, I had one promotion before but this was amazing," he continued.
"Saturday was amazing, to have that kind of crowd in League One is unreal. There were some mad scenes at the end but it was a great day. I'm proud to be at this club."
The 26-year-old is now looking ahead to playing in the Championship for the first time in his career.
"There's some massive teams in that league and I'm sure the fans are looking forward to going to some nicer stadiums.
"Hopefully we can show what we can do in the Championship where there is a lot more football played. We might not have always played that brilliantly this season but it was about getting promoted.
"I've always said I'm driven to play at the highest level I can and I can't wait to challenge myself in that league," he concluded.