Title just the start for Manchester City, says Francis Lee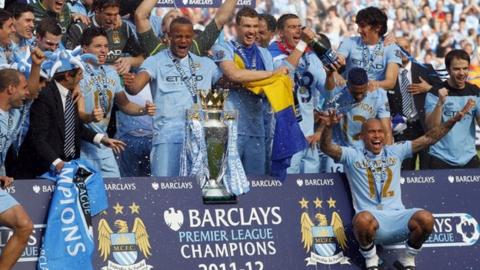 Manchester City's win over QPR means that, for the second year running, the end-of-season dinner at Etihad Stadium that Francis Lee organises as chairman of the club's Former Players' Association will be interrupted by a victory parade.
Twelve months ago, it was to celebrate winning the FA Cup and the end of City's 35-year wait for a major trophy. On Monday, it will be the Premier League trophy that is shown off from an open-top bus travelling from Albert Square to their home in Eastlands.
Lee, who scored the goals the last time City were crowned champions of England in 1968, doesn't mind one bit that his annual party for past City stars will be gate-crashed by the current crop. It is just as well, because the signs are he might have to get used to it.
City might have waited 44 years for their third title but it does not look like they will need to wait anywhere as near as long for number four.
Could this be the start for a period of dominance by the blue half of Manchester? "We've certainly got the right platform. Passionate owners, a fantastic stadium, great team spirit. Everything is there at the club to make it happen," Lee told BBC Sport.
The important thing for their legendary former striker, though, is that the club is looking forward, not back.
Before Sheikh Mansour took over the club in 2008, the previous 30 years had been pretty painful for City while, across town, United spent most of that time sweeping all before them.
Lee, who won every domestic trophy as a City player between 1967 and 1974, was among those to try to fail to turn things round during a four-year term as chairman from 1994 to 1998, a period when City slipped out of the top flight and United came to prominence as the country's main footballing force.
"It was just completely non-competitive," Lee says of the local rivalry between red and blue during his days in City's boardroom.
"There were some very dark days but they are behind us and there is no use in dwelling on them. Where we are and where we are going is more interesting - and very exciting."
Lee, who became a millionaire from making toilet rolls, stepped down just before City were relegated into what is now League One. But he arguably sowed the seeds for City's current success because he was in charge when the talks started with Manchester council that led to them leaving Maine Road for their present home at the Commonwealth Games stadium in 2003.
Would an billionaire oil-rich sheikh have chosen to invest in City if he had to build a new ground for them as well as fund their tilt for trophies? "Probably not," the 68-year-old former England international added. "Building that stadium was a masterstroke. And the council, the club and Sport England are delighted with their investment because it was a win-win situation.
"Look at the problems Everton and Liverpool, who are great clubs but realise they need to move, are having. A new stadium costs more than £350m these days and you have got to have a wealthy patron who wants to spend money on one."
In Sheikh Mansour, City have exactly that. The club already has a modern stadium to be proud of but, with their planned 120-acre Etihad Campus, they will soon be getting a £1bn training and academy complex too.
"It is fantastic to get that sort of commitment," said Lee, who is now involved in business development and industrial property rather than paper recycling.
"That is an investment in the community as well as the club because it is not just for the players, it is for the people of Manchester too. It is a sign that the owner is going to be here for a long time."
That might sound like bad news for United fans but Lee thinks a return to the days at the end of the 1960s when the Blues and Reds fought it out for trophies and titles is positive for both camps.
"The two Manchester clubs are streets ahead of everyone else and, whoever they follow, the intelligent football supporter will have enjoyed this season because they were going head to head for the title," added Lee.
"I am not taking the selfish view here, I am talking about the view for the people living in and around Manchester.
"This is a great time for Manchester football - it is much better having two sides leading the way at the top of the Premier League than having one at the top and one at the bottom."
It is City who have grabbed the glory in dramatic fashion this season, just as they did on the final day of the 1967/68 campaign.
Just after winning that title, the late Joe Mercer said: "We are champions because we deserve to be, because we are very, very fit. There is a lot of team spirit and we have allowed people to express themselves naturally. We work hard and play positively and the players - and we must never forget that these are the men who really deserve it - are better than even we realised."
Why have City won it this time too? "Exactly the same reasons," explained Lee. "It doesn't matter what era you are playing this game in, it is just the same in one big way - as Joe would say, it is all about the players.
"You can have your systems, your ideas and your set-plays but when it comes down to it, it is down to the players. They are the ones who cross that line and actually perform for you. If you have got the right mentality and right ability, you can leave it to them.
"The current side is a team of very fit, strong and powerful international players with three or four really big-time players.
"In Joe Hart we have got the best goalkeeper in the world, with Vincent Kompany, we have the best centre-half. Yaya Toure is one of the best midfielders there is and Sergio Aguero, Carlos Tevez and David Silva who would get in any team, in any era."
That bodes well for the future too, but how do City stay at the top now they have finally got there?
"You have got to move forward," said Lee. "Refresh the squad, maybe with two or three more players and carry on from there. We already have great belief and there is a fantastic team spirit. In lots of ways, the club is as good as it can be."