Exeter boss Paul Tisdale hopes more players will stay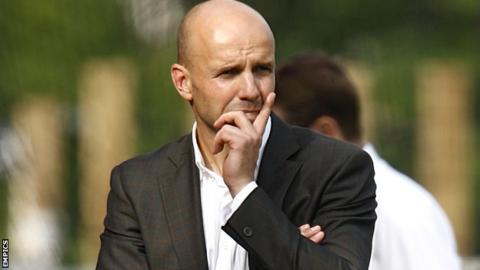 Exeter City manager Paul Tisdale hopes Alan Gow's decision to sign a two-year contract at the club will encourage some of his other out-of-contract players to stay at St James Park.
Former Rangers and Plymouth midfielder Gow has committed to the club after joining on a short-term deal in March.
Tisdale has up to a dozen players out of contract, with
"The better the player who signs, the better the team will be," Tisdale said.
"Alan has a part to play in that, so I think it can't harm that's for sure."
Tisdale says he is in negotiations with a large number of his players as he tries to finalise his squad for next season.
But with the club being relegated to League Two, most will have to take a pay cut if they want to stay at the club.
"The club won't function at the same finances that it's been on in the last season," added Tisdale.
"All players have a value to us at the moment. It's just whether that matches up to what they wish to secure for themselves and what other opportunities they have.
"Unfortunately there's going to be two or three weeks of indecision from them, from me, because it's not just a simple case of me saying 'yes' or 'no' and them saying 'great'.
"It's a case of we can't afford to pay what we've been paying and, at some point, you will be good value to us in the league we are going into and the money we have to spend."
Goalkeeper Lenny Pidgeley has already revealed on Twitter that he is set to leave the club after having talks with Tisdale.
But Tisdale says he would be happy to keep most of his current squad, if they wanted to stay.
"I would say that for the vast majority there would be a point where we'd like to keep them," he continued.
"But we can't pay the current rate, so we'll see what happens over the next couple of weeks."