Rangers: Date set for appeal against transfer embargo
Last updated on .From the section Football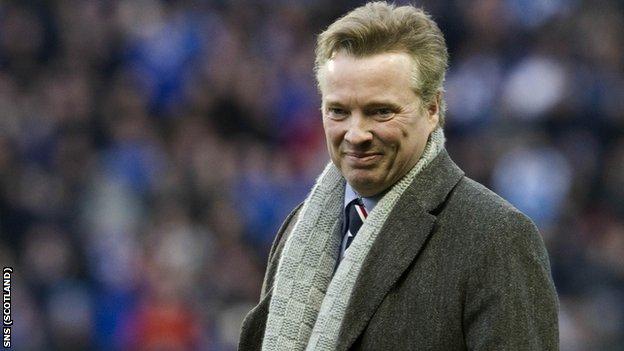 Rangers will have their appeal against a 12-month transfer embargo and a £160,000 fine heard next Wednesday.
Rangers manager Ally McCoist claimed the charges were unfair.
The Rt Honourable Lord Carloway (Chair), Craig Graham and Allan Cowan will be on the three-man tribunal.
At the time of the ruling, McCoist called for the three-man panel to be identified, urging transparency in the process.
Police advised the panel members who were threatened after their identities were revealed.
But McCoist said he had no regrets, said he should not have to consider potential actions of the "lunatic fringe" when voicing his opinion.
The SFA said it had decided to identify those who would sit on the tribunal on 16 May, but warned against intimidation.
"This decision has been taken with the approval of the individuals involved and after consultation with the relevant police authorities," it said in a statement.
"It is essential that these panel members are allowed to conduct the appeal without fear of intimidation and we respectfully ask all involved in the process to do their utmost to observe our wishes and the wishes of the panel members."
The SFA has published details for the judicial panel's initial ruling.
These include:
* Only match fixing in its various forms might be a more serious breach
* A number of individual directors and employees must have known that what was happening was entirely wrong
* Considered terminating Rangers' membership of SFA
Rangers received the embargo and £100,000 fine for breaching rule 66 - bringing the game into disrepute.
A £50,000 fine was handed out for going into administration and £10,000 for failing to ensure that Whyte acted within rules concerning fit and proper officials.
The Gers chairman failed to notify the SFA that he had been disqualified as a director for seven years in 2000.
The club were also found guilty of acting in an improper manner/against the best interests of football and also of failing to pay Dundee United gate receipts from their Scottish Cup meeting. They were "censured" on both counts.
Whyte was fined £50,000 for bringing the game into disrepute but a charge of acting in an improper manner and against the interests of football was not proven.
He was handed three more identical fines on separate counts of failing to follow directions from an SFA tribunal.
Responding to notice of the appeal date, Rangers manager Ally McCoist said: "We just want transparency and clarity and I'm delighted that the appeals panel has been named.
"The three gentlemen have got a decision to make and we obviously hope it's a good one for us.
"We will react to the decision when it's made. We will get a fair hearing and hopefully the appeal will go our way.
"It's got the potential to damage us like you've got no idea.
"Effectively the worst scenario is that the embargo stays and we are not allowed to sign players for a year and half our squad goes in the summer and we are left with a pretty depressing situation."
Meanwhile, Celtic boss Neil Lennon believes it is "grossly unfair" that the SFA have named the three-man panel.
"These people do it voluntarily, they do it because they love the game, and do it for the right reasons," said Lennon.
"I just think it puts extra pressure on these people and they are under enough pressure as it is."