Harriers hit hard by relegation, chairman warns Bulls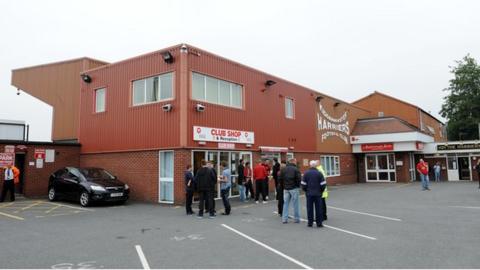 Kidderminster Harriers chairman Mark Serrell has offered relegated Hereford United a neighbourly warning regarding potential problems associated with exiting the Football League.
Harriers returned to the Conference in 2005, before Serrell came to the club.
But he has seen first hand how hard it can be to adapt to life without Football League funding.
"The club has struggled financially to deal with the falling-out period from it," Serrrell told BBC Sport.
"The experience I gained last year from the Conference, particularly with regard to the clubs relegated the previous season, is that it is a very professional league.
"It seems some of the Football League clubs last season underestimated the quality of the players and the organisational side of the clubs," he told BBC Hereford & Worcester.
Hereford, who were first elected to the Football League in 1972, have been down this road before, having first been relegated in 1997 when they could only draw at home to fellow strugglers Brighton on the final day of the season.
Under Graham Turner, it then took the Bulls nine years to win back their coveted Football League place.
But Serrell suggests that the United board, led by chairman David Keyte and vice-chairman Tim Russon, should look upon this as a chance to rebuild and come back stronger for the experience.
"It's an opportunity now for Hereford to brush themselves down and build again for that chance to go back into the Football League," he said.
"We know they are a very big club - certainly in our area - and I feel very sorry for David and Tim, because they have worked extremely hard.
"I am sure they appreciate that over that period of time it has been very difficult but league tables don't lie at the end of the day."
With Kidderminster having now finished one place outside the Blue Square Bet Premier play-off places two seasons running, Serrell knows how tough it is even to earn a play-off opportunity.
"Our situation, in which we finished sixth, meant we were the sixth-best club in the league - we can't argue about that.
"Hereford will understand that and I am sure David and Tim will learn a lot about the situation. Let's hope that it means that next season they have a push to go back."