'Peter Crouch's Stoke goal against Man City best of the season'
Last updated on .From the section Football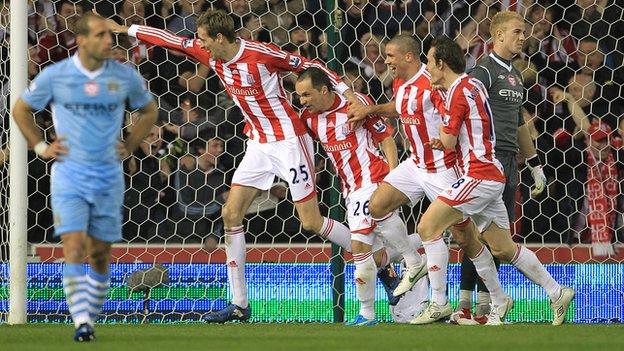 Stoke City chairman Peter Coates says Peter Crouch's volley against Manchester City is the "goal of the season", while writing off Newcastle rival Papiss Cisse's as a "fluke".
"I hope they don't go for the Cisse goal. That was a fluke.
"A remarkable goal, but a fluke. Crouch's goal was sheer technique."
Cisse's swerving angled 25-yard strike, the second of his two goals in Newcastle's 2-0 win at Chelsea in early May, reminded Coates of the strike by Mehmet Topal which helped Valencia knock Stoke out of the Europa League in February.
"The guy at Valencia, I can't remember his name, he won't score another goal like that as long as he plays," Coates told BBC Radio Stoke.
"I'm not saying Cisse's goal wasn't a great goal. It reminds me of the goal Valencia scored against us that was a fluke.
"They're hit and hope goals. Crouch's was fabulous."
Unquestionably the best of the 14 goals he has scored in his first season at Stoke, Crouch's volley has already won him the Potters' goal of the season award this week, while he also picked up their players' player of the year award.
But the 31-year-old is still hoping to be a hit with England this summer at Euro 2012 - and add to his remarkable international scoring record of 22 goals in 42 appearances.
Crouch, who scored in his last game for England, a 2-1 home defeat by France in November 2010, welcomed last week's shock appointment of Roy Hodgson.
"I've not played for him, but I've spoken to him a few times and I've talked to people who have worked with him and they've enjoyed it," Crouch told BBC Radio Stoke.
"He's got the best out of a lot of teams, he's got a good record around lots of different countries and I hope he does a job for England as well."
Crouch also hopes that, although he failed to find the net when Stoke lost 2-1 at home to Hodgson's West Bromwich Albion in January, he might have caught the eye with some of his televised goals - one in particular.
"I've not booked anything yet," he grinned. "Fingers crossed I get the nod.
"The atmosphere after I'd scored that goal against Man City was the best I've been part of. The place was jumping.
"The ball broke and I just tried to pop it up and volley it. It was the best I've ever scored and I'm very proud of it - Crouch goal the best, says Coatessomething I can look back on in years to come."