Norwich City boss Paul Lambert issues stark warning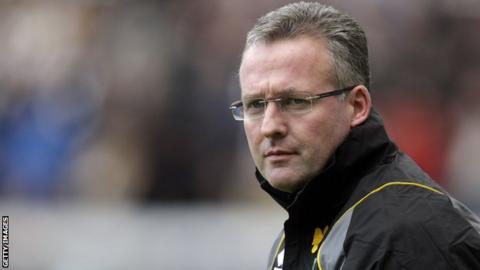 Norwich City boss Paul Lambert has warned that complacency next season could have disastrous consequences.
The Canaries comfortably secured Premier League survival this term, but Lambert wants to quell any expectation of an easier campaign after the summer.
"If everyone thinks like that, there's only one way Norwich will go," he told BBC Radio Norfolk.
"As soon as you start to think you've arrived or achieved anything that's when it goes belly up."
Norwich, who were lifting the League One title two years ago, have had a memorable return to the top flight after a six-year absence, collecting 11 victories on their way to a 44-point haul, with the season finale against Aston Villa to come on Sunday.
And Lambert is eager to maintain the club's hunger to succeed, an attribute that has been prevalent this term.
"That's why all the great players and great teams are where they are because they want to keep winning," said the Scot.
"They want to keep improving the players. If you accept that you're in a comfort zone there's only one way you're going - and that's back down."
Despite Norwich's progress, former Celtic midfielder Lambert will look to strengthen his squad over the summer.
"It's not rocket science, the team needs help. After the season we'll sit down and see what's going to happen," he said.