Gainsborough Trinity must be calm - boss Steve Housham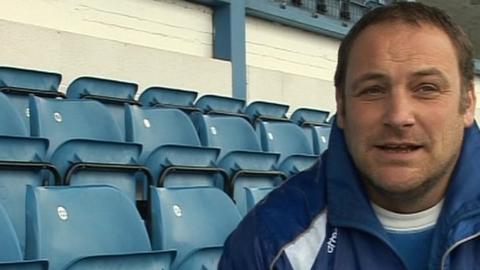 Gainsborough Trinity boss Steve Housham says the key to winning Sunday's Blue Square Bet North play-off final against Nuneaton is staying relaxed.
Victory would see Trinity promoted to within one tier of the Football League.
Chairman Peter Swann has said Trinity have already exceeded expectations but Housham wants his his side to "turn a good season into a great one".
"There's a buzz and excitement and we must control that and the nerves and enjoy it," he told BBC Lincolnshire.
"We have to enjoy the occasion. They don't come very often and they go with a click of the fingers.
"We have to enjoy it, but also play the football we have all season. I have to keep them as cool as I can. It's just another football match so enjoy it.
"If we get the victory we need, it will live in the memory for a long time so grab every second you can.
"We have had a good season. And if we get the win on Sunday, we will have a had a great season and will have the medals to prove it.
"We have some young kids and hopefully they won't be overawed by the occasion.
Housham, whose side beat FC Halifax 3-2 over the two-legged semi-final, believes moving up to the top tier of non-league football in England would be a huge boost to football in the county.
He explained: "There is only Scunthorpe in the Lincolnshire area in the Football League at the moment, so if we can get Gainsborough one step away it would be a massive boost for the whole area.
"The buzz is about the town and we can't wait for it to come. Walking through the town it's all about Gainsborough. The carrot is there for them when you look at the teams we could be playing next season."