Celtic manager Neil Lennon eager to lift SPL trophy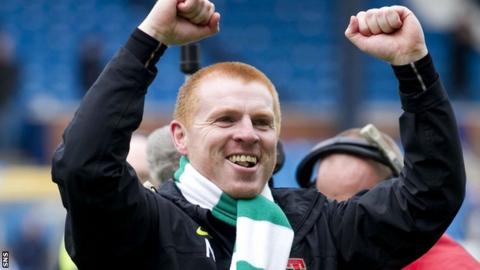 Celtic manager Neil Lennon says the club's Scottish Premier League triumph will only sink in when he gets his hands on the trophy.
Lennon's side, who sealed the title last month, will be presented with the trophy after Sunday's game with Hearts.
"It's been a bit of wait," said Lennon, who will soon hold talks with majority shareholder Dermot Desmond about plans for next season.
"It will probably sink in then, the enormity of what the team has done."
Despite being critical of his players following the defeat by Dundee United last weekend, Lennon was keen to praise them for their overall efforts this season.
"That's just me being over-critical. It's been a long season for them. I thought in general they played well on Sunday, just in the final third we let ourselves down," he said.
"Obviously we want to win the game [against Hearts], finish the season in a bit of style if we can. Ultimately, it's all about the supporters on Sunday enjoying themselves.
"I plan to speak to Dermot as I always do, I don't know if he'll be here on Sunday or not. He'll spell out what he wants from me and vice versa."
And, asked if Sunday could be his last game in charged at Celtic, Lennon responded: "Well I hope not; unless you know something I don't.
"There's a great challenge lies ahead every year. I think we all could do with a rest now. It's been a long sort of turbulent season for more reasons than one. But it will be nice to have a holiday.
"In the meantime between now and when I do get a break, I'll be working hard behind the scenes.
"You start to plan for next year. The Champions League qualifiers are really at the forefront of my mind - even now. You try to bring players in as quickly as you can, if you can.
"We're looking at maybe four or five positions."