Newcastle United boss Alan Pardew admits stars could be sold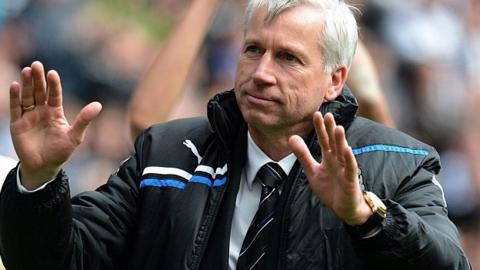 Newcastle boss Alan Pardew says he may be unable to keep his best players if the Magpies receive big-money offers.
United could qualify for next season's Champions League if they beat Everton in their final Premier League game on Sunday.
But Pardew told BBC Newcastle: "It's impossible to restrict Real Madrid, Barcelona, Chelsea, Manchester City from coming in for one of our players.
"We have players who are not on the salaries these top clubs can offer."
Yohan Cabaye, signed from Lille for a fee reported to be £4.3m last summer, is just one of the players to have flourished after coming in to replace the likes of Andy Carroll, Joey Barton and Kevin Nolan, who left Newcastle in the previous year.
Striker Demba Ba has scored 17 goals in 39 appearances this season after arriving on a free transfer from West Ham.
The 26-year-old Senegal international was linked with a move away Tyneside in January with reports that a buy-out clause in his contract would force Newcastle to accept an offer as low as £5m.
"Demba's release clause has been widely publicised, there is some truth to it, and some untruth," said Pardew. "There is a clause there.
"There is a situation with his contract and we are in talks with him and his agent.
"It is not a foregone conclusion that he will stay, but the Newcastle public have played their part singing his name. He must love that."
Pardew insisted that Newcastle's predicament was the same as that faced by Arsenal, who were unable to keep Samir Nasri and Cesc Fabregas from signing for Manchester City and Barcelona respectively last summer.
"Forget about Everton and Aston Villa, we have put ourselves in a similar position to Arsenal," he added.
"The one security I have is that [owner]Mike Ashley is a difficult seller. He is not going to let someone go for £7m, he is going to want top, top money.
"But if Yohan Cabaye gets a call from Manchester United and they tell him he is going to be the next Paul Scholes I am not going to be able to stop him.
"It is going to cost Manchester United a shedload of money, but until we have Champions League football, and we might have that by this weekend, we can not compete with that."
As well as bracing himself for possible bids for his stars, Pardew, who was named Premier League manager of the season on Friday, revealed he is also making plans to add to his squad.
"I am contemplating bringing in someone because we don't have a dominant header of the ball. On the scouting front we are looking at a centre-half who can come and score us eight goals next season," he added.
"If we didn't have Demba Ba we wouldn't have Papiss Cisse and we are trying to bring another player to the club who is close to Yohan Cabaye. That is another little connection and a bit of a clue for you."