Patrice Evra backs Manchester United to produce title shock
Last updated on .From the section Football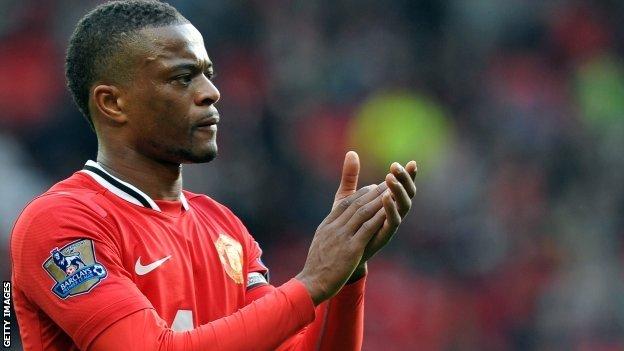 Manchester United defender Patrice Evra still believes his side could snatch the title from rivals Manchester City on the final day of the season.
"Maybe people will say I'm crazy, but I still believe," said Evra.
"I know destiny is not in our hands. If we want to keep believing in the miracle, we have to beat Sunderland."
Manchester City have collected 52 from a possible 54 points at Etihad Stadium this season, while QPR have lost 13 times on the road this season - more than any other side in the top flight.
But, after United's 2-0 win over Swansea on Sunday, United manager Sir Alex Ferguson told fans at Old Trafford this weekend could mark "the biggest celebration of our lives".
He also suggested relegation-threatened Rangers, managed by former Manchester City boss Mark Hughes, would not lack motivation to ruin the leaders' party plans.
Evra believes the dynamics of the season's final day - with all matches kicking off at 15:00 BST on Sunday - will allow Manchester United to heap extra pressure on their rivals.
"If we score first, maybe the City fans in the stadium will start to be nervous," he added.
"When you are nervous, you rush things and you don't do the things you want to do. That's why I still believe, but we must make sure we are ready against Sunderland."
In their own game at home to QPR on 8 April, United won 2-0 to move eight points clear with six matches remaining.
Evra believes United's late collapse in the 4-4 draw against Everton three weeks later, a game in which he headed against the post with his side leading 4-2, marked the point the title race tipped back in City's favour.
"If you play for Manchester United, you have to accept the pressure," he said. "You have to win every year no matter what you do. People don't care, you have to win.
"It's going to hurt a lot. If we see City celebrate, people will say it's the end of the Manchester United empire."