The history of the European Championship
Last updated on .From the section Euro 2012
The European Championship in Poland and Ukraine will be the 14th time that the competition has been held.
It was the brainchild of Henri Delaunay, the secretary of the French Football Federation, who first came up with the idea of a continental competition in 1927.
At first he had little support and it did not start until 1960. Until 1980 only four teams went through to the final stages, but it is now a 16-team competition and one of the major events on the football calendar.
All 13 of the previous tournaments have provided memorable moments - and BBC Sport profiles them all ahead of this year's competition.
1960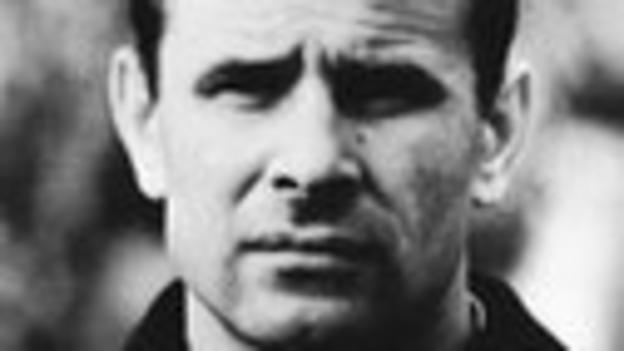 The first tournament was held in France and won by the Soviet Union. The victorious team had legendary goalkeeper Lev Yashin in goal. England's World Cup winning goalkeeper Gordan Banks recalls a counterpart without equal.
1964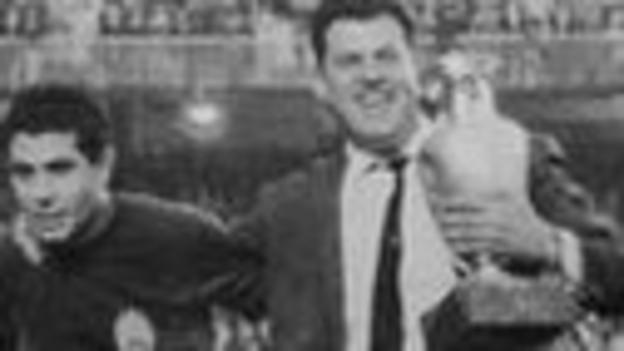 Spain are currently all-conquering on the international stage but their first success came at Euro 1964, when they won on home soil with a team spearheaded by Luis Suarez. The midfielder recalls the tournament, which has often been overlooked in Spain.
1968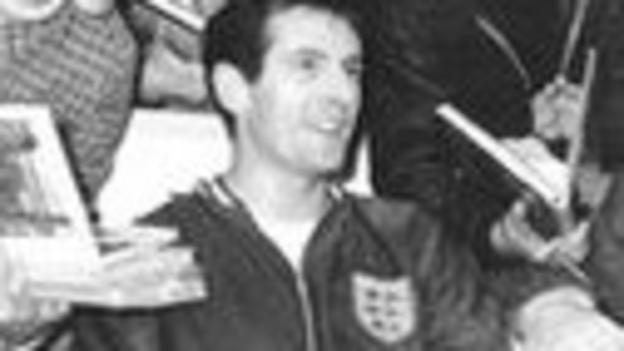 The third European Championship was held in Italy and, as with Spain in 1964, was won by the host nation. England reached the last four but were defeated by Yugoslavia in a bad-tempered match. England's Alan Mullery remembers it for the time he saw red.
1972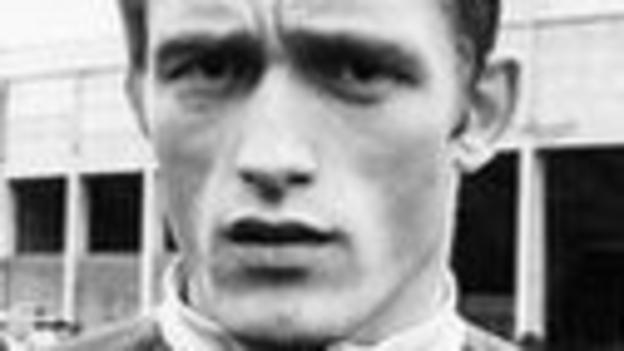 Reigning European champions Italy failed to make it to the finals, falling victim to hosts Belgium in the last eight. However, West Germany did, defeating the hosts on their way to a final in which they comfortably overcame the USSR 3-0. Former Belgium striker Paul van Himst recalls the might of Franz Beckenbauer's side.
1976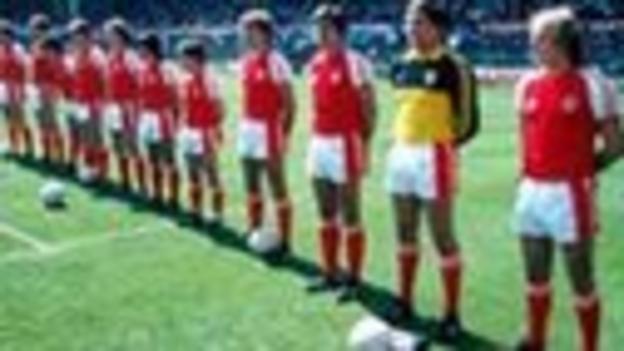 Ultimately Euro 1976 was won by Czechoslovakia, as they defeated West Germany in a penalty shoot-out in Belgrade. But it was also a tournament that Wales came so close to reaching, as Leighton James recalls, while referee Clive Thomas found himself facing a nightmare assignment.
1980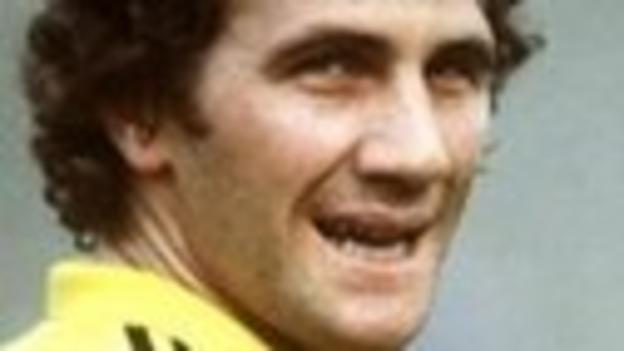 The format changed in 1980, with eight teams though to the finals, but the result had a familiar look about it, with West Germany triumphant. However, there was a surprise package in the tournament, with a Belgium team brimming with talent reaching the final, as Jean-Marie Pfaff remembers.
1984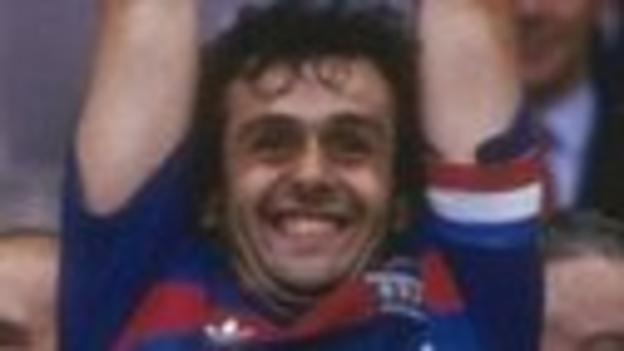 France went close at the World Cup in 1982 before losing to West Germany in a memorable semi-final, but there was no disappointment on home soil, as a team led by the imperious Michel Platini emerged triumphant. Fellow midfielder Luis Fernandez and BBC commentator John Motson remember a vintage tournament.
1988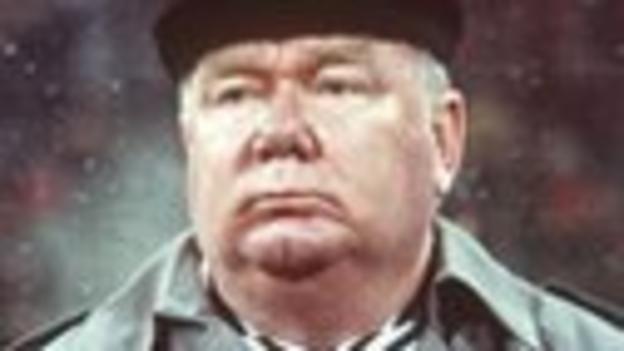 It was the tournament when Netherlands striker Marco van Basten was without equal as he scored the goals that led his team to victory. However, it was almost a very different story as the USSR, led by by legendary coach Valery Lobanovsky came close to glory. Sergei Baltacha recalls the last stand of a team that broke up shortly afterwards.
1992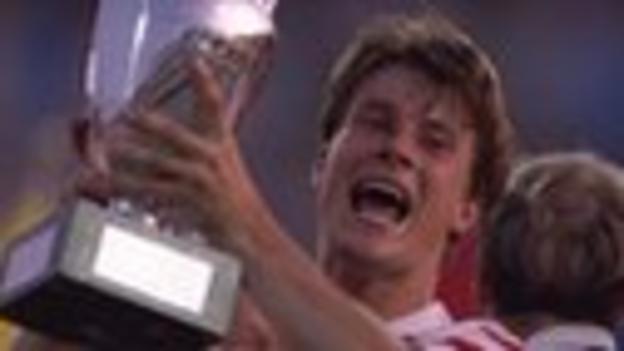 Denmark did not qualify for the tournament in Sweden but got their chance when Yugoslavia, in a state of civil war, did not participate. And boy, did they take it, beating Germany in the final to pull off a fairytale victory. Kim Vilfort, who scored in the final, explains why the Danes were better prepared than many realised.
1996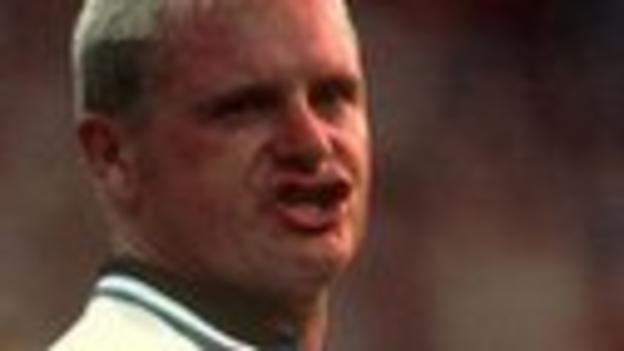 Euro 96 - the tournament when football came home, almost. England reached the last four, but lost to Germany on penalties. Sound familiar? Germany went on to win the final, defeating the Czechs at Wembley. England striker Alan Shearer remembers a memorable month.
2000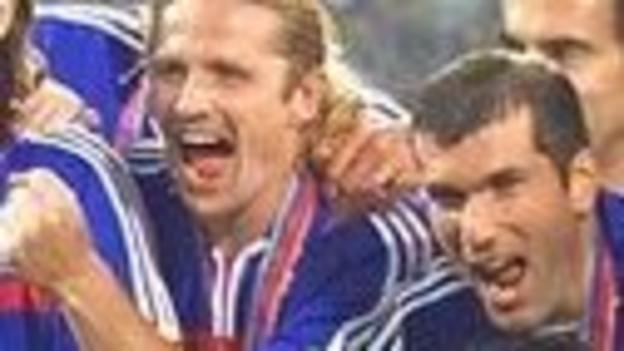 England recorded a rare win over Germany but failed to get out of their group and Kevin Keegan's men went home in disappointment. France had won the World Cup on home soil in 1998 and wanted to prove their supremacy by winning in Belgium and the Netherlands. Midfielder Emmanuel Petit explains how France held their nerve to triumph.
2004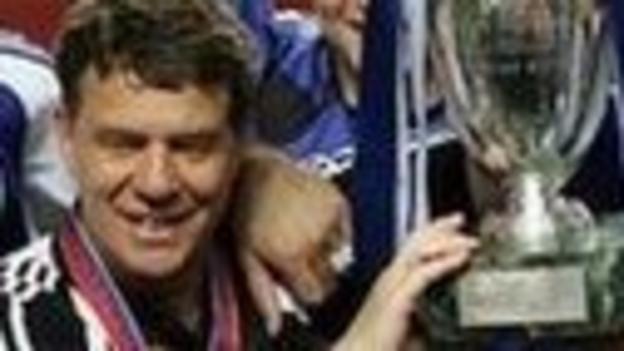 Euro 2004: When Greece were crowned kings. It was going to be Portugal's year, the tournament when they triumphed on home soil. Otto Rehhagel, the German coach of heavily unfancied Greece, had other ideas. BBC chief football writer Phil McNulty recalls a month when defensive grit overcame attacking flair.
2008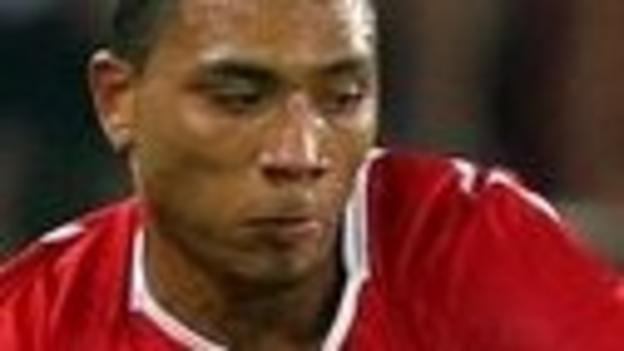 A brilliant tournament in Austria and Switzerland produced a stack of stunning games, while Spain ended a 44-year wait to end their international disappointment. Turkey pulled off a series of stirring comebacks on their way to the semi-finals. Midfielder Colin Kazim-Richards recalls a memorable month for Turkey.