Irish FA 'disappointed' by James McClean NI comments
Last updated on .From the section Football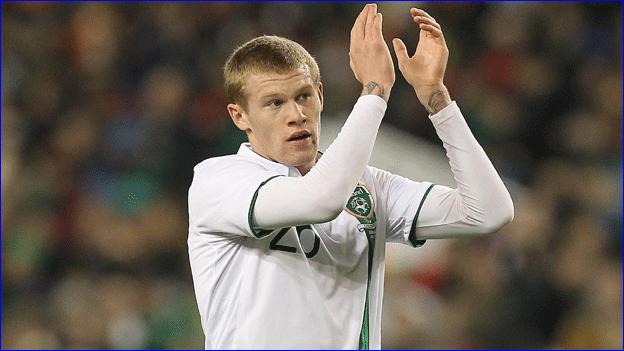 The Irish FA has expressed its "disappointment" at comments by James McClean claiming that Catholics could not "feel at home" representing Northern Ireland.
McClean represented the Northern Ireland Under-21s before switching to the Republic of Ireland.
The Sunderland winger has been named in the Republic squad for Euro 2012.
"The Irish FA's strategic vision is to foster, develop and promote football for all," said the IFA statement.
"We pride ourselves with the fact that all Northern Ireland international football teams - both past and present - have always involved players from all sections of the community.
"The Association has a very successful 'Football For All' programme where the main objective of the programme is to make sure that the sport of football is welcoming and inclusive to all members of our society in Northern Ireland.
"We will continue to drive this initiative forward."
McClean received death threats on Twitter after his Euro 2012 selection on Monday and he has since closed down his Twitter account.
Speaking in Dublin on Thursday, the Derry native indicated that he had never felt comfortable playing at youth level for Northern Ireland.
"I think any Catholic would be lying if they said they did feel at home, seeing all those flags Union Jacks and hearing the songs and chants.
"For me, I didn't feel a part of it. It's probably the wrong thing to say but it was just a stepping stone in my career.
"When I signed for Sunderland, my dream of playing for Ireland became realistic."
McClean has enjoyed an excellent second half to the season since breaking into the Black Cats' first team in December and he has forced his way into Giovanni Trapattoni's squad for the Euro 2012 finals.
However, the midfielder insists he is not going to Poland and Ukraine simply to make up the numbers.
McClean said: "I'm in the squad and I'm delighted to be in the squad. But I'm not going to be here just to make up the numbers and leave it at that.
"We have the training camp and the friendlies coming up and I want to show him that I can leave my mark and give him something to think about when it comes to selecting the team for the first game.
"Hopefully, I'll give him a dilemma."