Brendan Rodgers defends Kenny Dalglish's record at Liverpool
Last updated on .From the section Football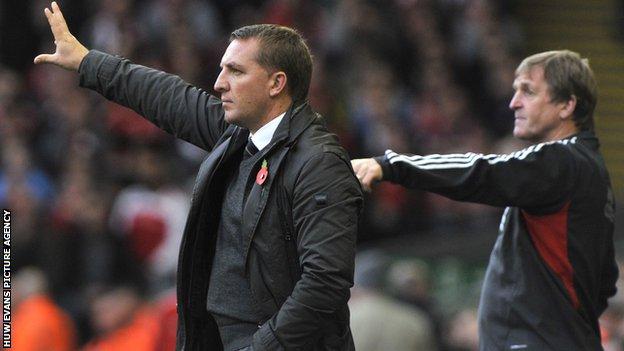 Swansea boss Brendan Rodgers has rejected suggestions Liverpool's season under manager Kenny Dalglish has been a failure.
Dalglish's side secured the Carling Cup but last weekend's FA Cup final defeat and a current position of eighth has led to criticism of the Scot.
"I don't believe their season has been a failure, he has been in the process of rebuilding," said Rodgers.
The Anfield club are also facing the prospect of finishing below neighbours Everton in the Premier League for the first time since 2005.
Dalglish has received criticism for his tactics and his transfer market dealings, with an outlay of over £100m failing to ignite a title challenge.
But Swansea manager Rodgers, who will be looking to end a memorable campaign with a win and a possible top 10 finish, believes Dalglish needs to be given time.
"When he had the second half of last season there he did a terrific job, he renewed the motivation in the group and city, and this season he has reshaped the squad," said Rodgers.
"It's the beginning of a process that he hopes in the future will bring success.
"But that's the problem with being a manager; it's like trying to build an aircraft while it is flying.
"You don't get time to put it in the hanger and do everything you need and send it out there, you have to try and do it while it's flying and that's what he is in the process of.
"He has a history of success at the club as a player and a manager.
"He has a strong team behind him but unfortunately everyone looks to the short term, but he has done a terrific job and he will look to develop and grow next season."
While some may view Liverpool's campaign as a disappointment, Swansea have enjoyed a memorable debut season in English football's top-flight.
The south Wales club were tipped for an instant return to the Championship following their play-off success at Wembley but could finish in the top 10 if they win and results go their way.
"For us to finish in the top 10 would be an absolutely brilliant achievement," Rodgers said.
"It would be a brilliant achievement if we can do that, but wherever we finish it has been a great achievement by the players this season."