Mali federation confirms Giresse departure
Last updated on .From the section Football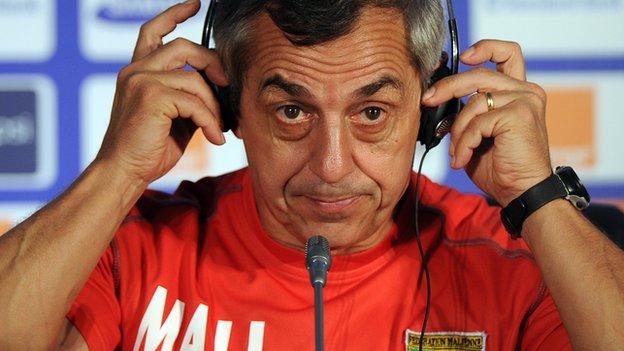 Mali's football federation has confirmed that coach Alain Giresse will leave his post at the end of the month.
"We will establish a team of local coaches to take us through our next two games and then look for a new coach after that," said federation vice-president Moussa Konate.
In February, Giresse led the Eagles to third in the Africa Cup of Nations.
This was their highest finish at the tournament since losing the final itself in 1972.
Mali now just have three weeks to appoint coaches to oversee their initial 2014 World Cup qualifiers - with games against Benin and Algeria coming early next month.
For the moment, Giresse's assistant Amadou Pathe Diallo is reported to have taken over in an interim capacity.
Talks between Giresse and the federation initially stalled as the Frenchman objected to the latter's demands on three issues.
The federation wanted to appoint the medical staff for the national team, insisted that they validate every squad list while there was also an issue over Giresse's telephone bill.
"We made some concessions on the three points of disagreement, so I don't understand why he has not renewed his contract," Konate told BBC Sport.
Konate says that the federation backed down on its desire to appoint the medical staff, merely requesting in the end that Giresse appoint a new French doctor.
With regard to overseeing squad lists, Konate says that the federation agreed to remove the term 'validation' from their requirements.
Nonetheless, Giresse's interest in the job appears to have ended - prompting Konate to lament the departure of the country's most successful coach in living memory.
"I have this feeling of an unfinished job (for Giresse)," he added. "We wanted him to carry on as he had a future with a young team."
The former French international was appointed Mali coach in May 2010 on a two-year deal.