Inverness boss Butcher eyes room for improvement
Last updated on .From the section Football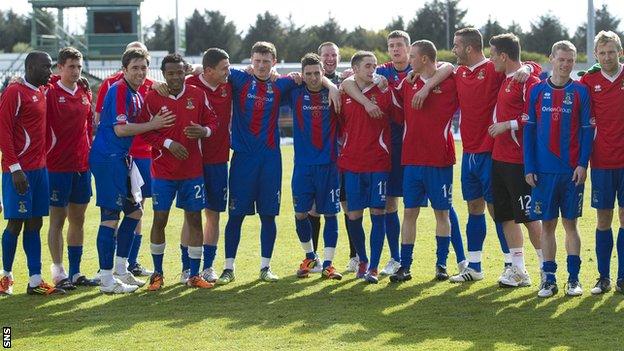 Manager Terry Butcher believes Inverness will be a better team next term if he can retain his key players.
"If I can keep this group together, we can hit the ground running pretty quickly," he said after ending the season with a 2-0 win over Hibernian.
"I've got a very small budget to work to, it's been cut from last year, so things will be tight.
"A lot more is to be expected next year because we'll know more about each other and what we're all about."
Butcher will begin negotiations with players that are soon to be out of contract, like winger Jonny Hayes and veteran defender Ross Tokely.
"I've got a lot of work to do, talking to players, putting down proposals and speaking to agents," the manager told BBC Radio Scotland.
"And we'll see what happens because it's very much a waiting process.
"Pre-season was hard last year and it will be hard again this time; the players are geared up for that.
"What we've suffered from in terms of decisions, injuries and all these kind of things, will definitely make us stronger.
"This season, I was probably guilty of running before I could walk and pushing the players too hard, too soon.
"Everyone has made mistakes this season, myself included.
"We never really got going until our good run in the early part of this year and that is what kept us up, pushing us above Hibs and Dunfermline.
"It's been up and down, up and down."
Inverness made sure of a 10th-place finish in the Scottish Premier League thanks to their first home win since 21 January.
Greg Tansey and Hayes grabbed the second-half goals to see off a Hibs team that rested several regulars ahead of next weekend's Scottish Cup final.
"We always felt we could get through them but it took more time than we thought it would," explained Butcher.
"The second half was a lot better and we got a penalty, which is unusual. That's two penalties this season - both against Hibs.
"It's a great three points for us. It takes us to 39 points and above Hibs again, with all of their money, facilities and history."