Newport boss Justin Edinburgh rues missed chances at Wembley
Last updated on .From the section Football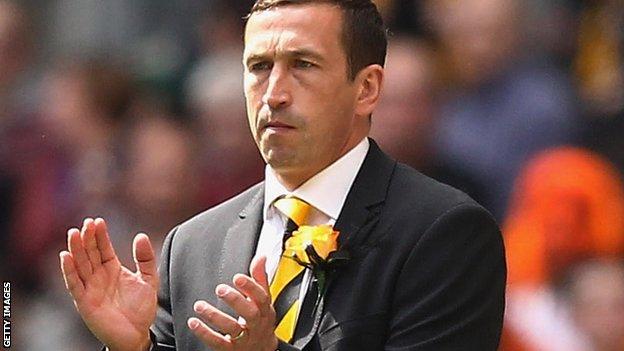 Newport County manager Justin Edinburgh was left ruing missed opportunities after his side's 2-0 defeat by York City in the FA Trophy final.
Midfielder Romone Rose spurned a fantastic chance to put the Exiles ahead in the first half.
"It sums up my time since I came here, we just haven't been clinical enough," said Edinburgh.
"I can't fault the effort but in terms of having that cutting edge, we were just found lacking."
He added: "I have to be honest and the one-on-one changed the game.
"Romone's disappointed, they all are and I'm certainly not blaming him. In his defence I think he just had too much time."
There was controversy over Newport's goalkeeping position with the Football Association's ruling that Nottingham Forest loanee Karl Darlow was ineligible, even though Fifa had backed the Welsh side's claims.
Former Tottenham defender Edinburgh admitted he did not think the ruling had impacted on the result but questioned the FA's decision.
"We knew for definite about the goalkeeping situation yesterday," he continued.
"The FA need to look at themselves and get their house in order. We've been discriminated against in not being allowed to let that boy play. They've deprived him off his chance to play at Wembley and that's not fair.
"I don't think it changed the result. Glyn [Thompson] did well, maybe his positioning wasn't right for the first goal but I'll have to look at that."
Despite losing to goals from Matty Blair and Lanre Oyebanjo, Edinburgh was keen to take positives from County's first ever Wembley appearance.
"It was a monumental day for the club," added Edinburgh. "Lee Evans was absolutely immense and I thought Lee Minshull was brilliant too because we asked him to play in an unusual position for him.
"We have to learn from what happened today and make sure that it doesn't happen again. Next time we're here I want us to be going up those stairs second, as winners.
"I've said it all along these fans have been outstanding, especially given the circumstances. It's just unfortunate we could have sent them home with what we all wanted."