Celtic manager Neil Lennon hails five-star Gary Hooper
Last updated on .From the section Football
Manager Neil Lennon heaped praise on five-goal Gary Hooper after Celtic finally got their hands on the Scottish Premier League trophy.
Having secured the title early last month Celtic ended their campaign in style with a 5-0 rout of Hearts.
Hooper netted all of the goals, prompting Lennon to say: "It was a tremendous individual performance.
"He is a goalscorer, they are priceless but we want to keep him here and we will do our very best to do that."
Hooper converted a penalty to complete a hat-trick before the interval and knocked in two more goals in the second half to take his tally for the season to 29.
Celtic rebuffed approaches for the 24-year-old from Southampton in January and Lennon would not be surprised if the club have to fend off more offers for their top scorer.
"I think he is happy here but I'm sure there are people out there who will pay for his talent," added the manager.
"He is a special player. If you look at Nikica Jelavic [former Rangers striker] and what he has achieved since going to Everton there is no reason why Gary Hooper can't do that, in any division, whether that be in the Premier League, or in Spain or Italy.
"He scores big goals in big games, he has a good record against Rangers and he has scored in Europe.
"He is only 24 and has got the world at his feet so we would like to keep him."
Hooper, who last scored five before he turned professional, admitted that it had been a perfect day for him and gave no indication that he was considering a move away from Glasgow.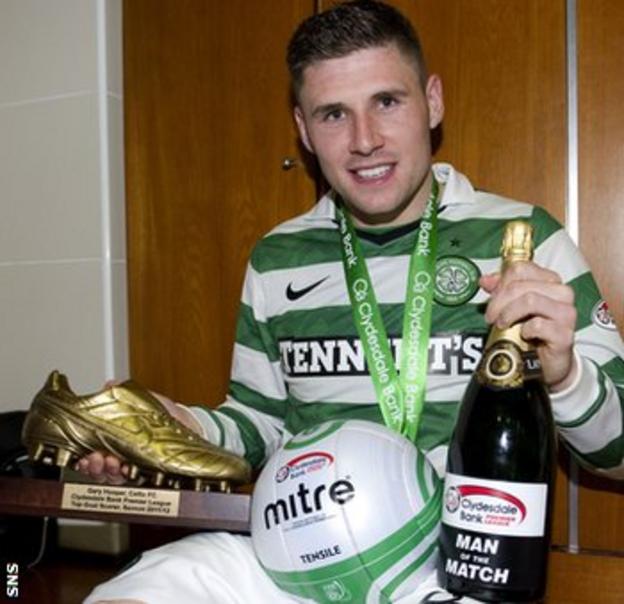 "Scoring five goals and picking the SPL trophy up - you can't ask for much more," he enthused.
"I thought we were outstanding from start to finish. Finishing top scorer was my aim after winning the league at Kilmarnock. I haven't scored five in a top-class game before but maybe I should have had six.
"I should have scored another in the first half or near the end but Paddy McCourt put too much on the pass.
"My next challenge is to score six goals in one game and score more goals next season than I did this season.
"And the Champions League is massive in anyone's career. I would love to play in it and score."
Lennon explained his reason for pointedly taking the SPL trophy over to the section of the ground which houses the Green Brigade, the vociferous section of the home support.
"I just wanted to say thank you to them," he said.
"Week-in, week-out, they have created a great atmosphere, they sing non-stop and add colour.
"Sometimes they are a little bit controversial but in the main they have behaved themselves impeccably and have changed the culture of the stadium."
Asked if there was any prospect of him not being in charge next season, the former Celtic skipper said: "I wouldn't have thought so.
"We have a board meeting on the 25th and I hope to speak to Peter Lawwell [chief executive] before that but there is nothing to resolve there, just a few things that need ironing out."
Lawwell gave Lennon a ringing endorsement during the post-match celebrations, telling BBC Scotland: "He's done a magnificent job.
"The intensity of being the Celtic manager, you really have to be in the job to appreciate it.
"He's coped with it remarkably well, despite all the other nonsense that's been going on around his life.
"He's a strong character, a very intelligent guy and he'll be one of the greats, I'm sure."
Lawwell also pledged to bolster the squad over the summer, adding: "With every transfer window we hope to come out stronger than when we went in.
"We're really excited at the prospect of being in the Champions League again. That's where a club like this should be."