Rangers manager Ally McCoist hopes recovery can begin
Last updated on .From the section Football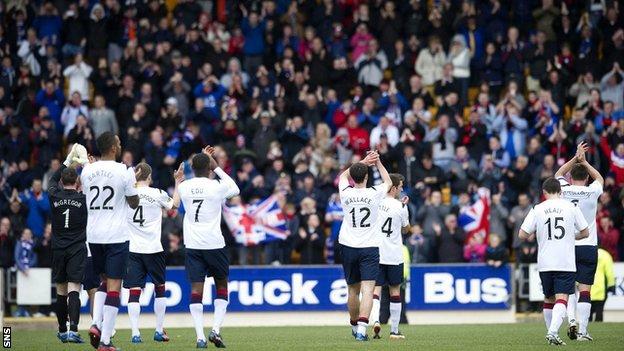 Boss Ally McCoist hopes the future of Rangers can be safeguarded now Charles Green has agreed a takeover deal.
McCoist's men signed off for the season with a 4-0 victory at St Johnstone, bringing an end to a campaign in which the club entered administration.
"I'm absolutely thrilled at the performance we put in," said McCoist.
"The future of the football club and the welfare of people within that club is the most important thing and the hard work hopefully starts now."
Green attended Rangers' handsome win in Perth hours after announcing he had agreed a deal to take control of the club.
The former Sheffield United chief executive met with McCoist on Saturday evening and the Yorkshireman later praised the manager's "fantastic" efforts this season.
"I'm very pleased to hear that, it's very nice of Charles to say that and I'm very thankful for that," McCoist told BBC Radio Scotland.
"We're all very well aware and very appreciative of the fact that there's an awful lot of hard work still to be done.
"It's certainly a good game for any new owner to come and watch when your team wins 4-0 away from home so I would think there's a big smile on Charles' face.
"The passion was flowing out the stands from the support and I thought the players did them proud, particularly in the second half, I thought we looked really dangerous in wider areas.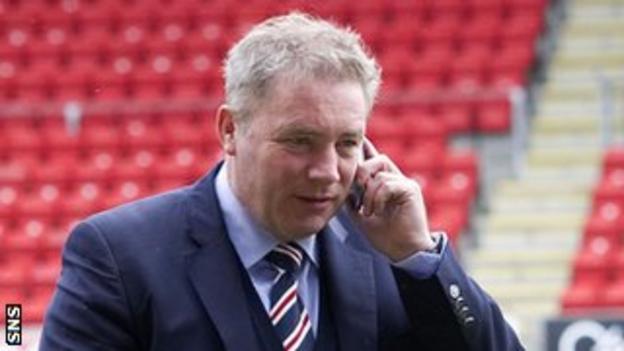 "I'm really pleased for another thank you for the fans and the support that the players gave them because the players really, really appreciate the rallying.
"The bond between players, staff and supporters now is probably as great as it's ever been in the football club, which is a very, very positive thing."
When McCoist succeeded Walter Smith as manager last summer, Rangers were reigning Scottish Premier League champions.
In the months that followed, influential forward Steven Naismith's season was ended through injury and top scorer Nikica Jelavic was sold to Everton before the step into administration brought a 10-point deduction from Rangers' league tally and ended any real prospect of retaining the title
"As disappointed as we are in the season and what's unfolded this season, you have to look for positives and the camaraderie, spirit and passion that these [players] have shown has been something that Rangers Football Club should be very proud of," said McCoist.
"You just have to react to what's thrown at you. I certainly didn't envisage any of the problems last July.
"What doesn't break you will make you stronger and it's been a tough season. We're still standing. We've taken a couple of standing counts but we're back up and we're swinging again.
"They're looking forward to a well-earned rest because they've been through the mill this season with one thing or another and their solidarity and their companionship has been really evident throughout all the troubled times.
"They're a fantastic group of boys, they really are. We're all extremely proud of them."
McCoist admits "there's been many a time I've thought it's been ridiculous but it's never been too much" and described his backroom staff as "an enormous tower of strength".
"It's an amazing thing, gallows humour," he added. "It does give you an incredible strength.
"If you lose the ability to smile or even laugh at some of the ridiculous situations, then you're really struggling. The gallows humour has helped us greatly to get through it.
"The low points would probably be too numerous to mention. The club going into administration, quite simply, would be the low point in our football club's history, never mind the season.
"High points? We've had some great performances. The two performances against Celtic at home were absolutely first class.
"One of the high points would have to be the second half [against St Johnstone] and a thank you for the fans."