Swansea's Angel Rangel would consider representing Wales
Last updated on .From the section Football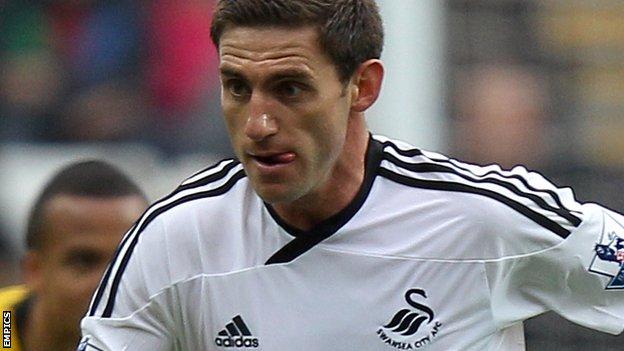 Swansea City's Spanish full-back Angel Rangel said he would consider playing for Wales if he was approached by manager Chris Coleman.
The 29-year-old joined Swansea in June 2007 and residency rules will soon make him eligible to play for any of the four home nations.
And Rangel admits a chance to play international football would be a very tempting offer,
"If the opportunity comes then I'm sure I will consider it," said Rangel.
"I'm not playing for any national team now so obviously any option [I] would consider.
"We know Spain is probably one of the best teams in the world - they won the World Cup - so it would be difficult to get into that national team.
"You have to play probably for Barca [Barcelona] or [Real] Madrid or a top team to play for Spain.
"It could be an opportunity but I know it's far, far away right now so maybe other options could be more easy.
"The Welsh team would be a great option but as I said I don't know anything about it and [I'll] keep focused on Swansea City."
The Catalan was signed by Swansea's former manager, fellow Spaniard Roberto Martinez, from Terrassa in the summer of 2007.
He has made more than 200 appearances for the Swans and has been a regular during their debut season in the Premier League.
Brendan Rodgers' side ended the season with a 1-0 win over Liverpool at the Liberty Stadium to finish 11th in the table.
And Rangel says he is proud the club have secured their Premier League status by sticking to their footballing principles.
"To finish 11th in the table is a massive achievement for this football club," said Rangel.
"We've always shown we've stuck to our principle, which is keeping the ball.
"It did work in the Championship and we knew we had to do exactly the same [in the Premier League].
"Even [though] we had battles at the beginning we always stuck to that kind of football.
"We knew once we got our first win and score a few goals we would settle in the league and play better football.
"You've seen the whole season - we just got better and better with every game and in the end we finished on a high."
Liverpool were the latest big name to suffer defeat at the Liberty Stadium this season with Swansea having already beaten both Arsenal and Manchester City.
Swansea also drew against Chelsea and Spurs at the Liberty and Rangel says home form proved crucial during the season.
"Obviously you don't expect to get as many points against the big sides," added Rangel.
"The Liberty Stadium has been a fortress the whole season, especially in the Premier League.
"We know that away from home it's difficult to get points.
"Hopefully we can keep beating the big teams next season and hopefully get more points against the lower teams.
"There's belief in everyone not only in the [starting] 11 but the 20 odd players in the squad plus the coaches. Everyone has been fantastic."