Man City win Premier League title: Players and managers reaction
Last updated on .From the section Football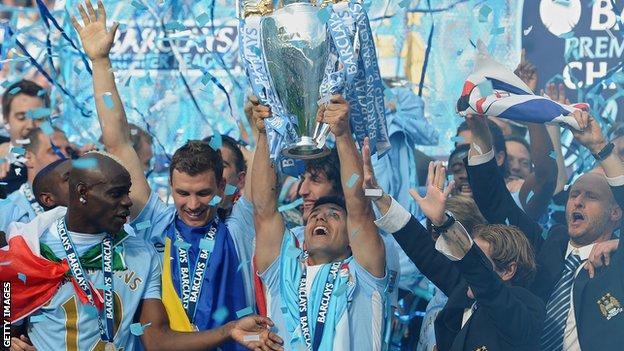 Manchester City players have hailed their club's historic Premier League title win on Twitter.
"It was a thrilling match but we never stopped believing," Aguero tweeted.
Team-mates including skipper Vincent Kompany and England defender Joleon Lescott also posted triumphant messages on the social networking site.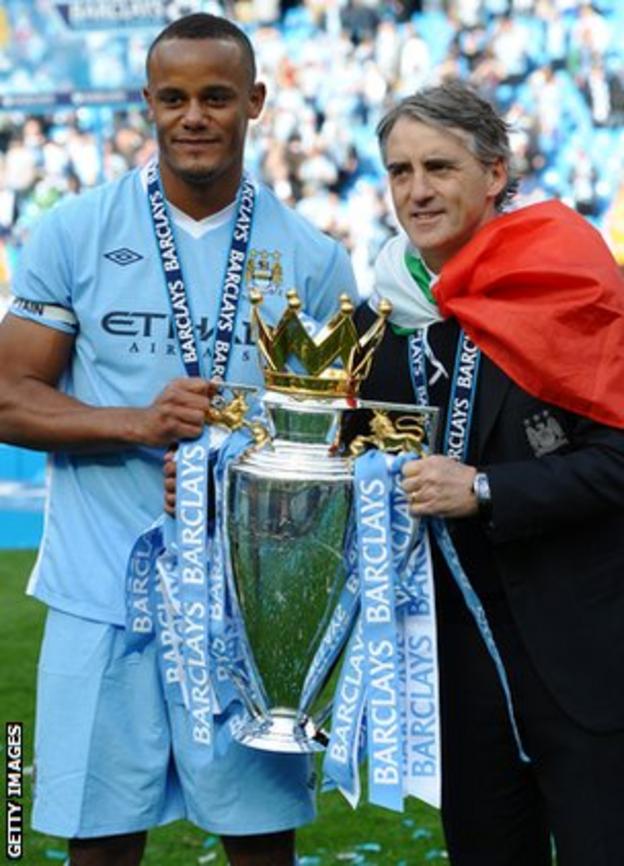 "Now we are champions, I'll say it again - I hope this is the start of something huge," added Aguero.
City's neighbours Manchester United looked set to lift their 20th top-flight title as Roberto Mancini's men trailed 2-1 against visitors QPR heading into the dying stages at Etihad Stadium.
United had already beaten Sunderland in a 1-0 win before late goals from substitute Edin Dzeko and Aguero dramatically swung the season in City's favour.
Belgian defender Kompany, who lifted the Premier League trophy amid joyous celebrations, tweeted: "No words can describe this feeling! This team has worked hard, the fans have suffered long time, today we bring the trophy home for you!"
Lescott, whose mistake allowed QPR to go 1-0 ahead, added: "Can't describe how I feel. When I come back down off this high I will try and explain but to all City fans enjoy tonight."
Left-back Gael Clichy moved to City from Arsenal last summer and tweeted a picture of himself and fellow ex-Gunner Samir Nasri celebrating.
Clichy said: "Nothing to say!" And Nasri added: "Best feeling ever thank you so much guys you were amazing."
Players and managers from other clubs across England's top-flight also moved to applaud City's achievement on Sunday.
Tottenham boss Harry Redknapp was among the first of Mancini's peers to offer his congratulations.
"That's what makes our league so great," said the 65-year-old.
"I thought Manchester United had won the title [but what happened was] just amazing. They've won it so good luck to them.
"I'm sure Alex [Ferguson] will look back and think the Everton game cost them. That's football, you do not have a divine right to beat anyone."
QPR manager Mark Hughes, who was sacked by City to be replaced by Mancini in December 2009, said: "I congratulate City. It is a huge achievement for them. I am sure there will be many more in the future.
"We touched the well of apprehension they experienced. It was all the more exciting because of that."
QPR midfielder Joey Barton, who was sent off in his side's 3-2 defeat, also congratulated his former club City on Twitter.
Manchester United striker Michael Owen tweeted: "Football can be the best/worst game in the world! Unbelievable day. The lads can hold their heads high and regroup for next season.
"[It's been] an unbelievable season. Congratulations to all the winners and commiserations to those relegated."